Noah is usually up for anything when it comes to meal time, but he loathes broccoli. One of my earliest memories of him is the phrase "They taste, feel, and look like little trees." The fact that I thought this was ridiculous never swayed him in the least. I kept trying to hide broccoli in soups and stir-fries, thinking he wouldn't mind it if I could overwhelm it with meat and/or sauce. Nope.But this salad changed everything. This salad embraces broccoli with a wide variety of textures and flavors. Not only did he go back for thirds, but he also asked how to make it so that he could have it more often. I have never been more proud of a recipe!
Looking for Some Simple AIP Recipes?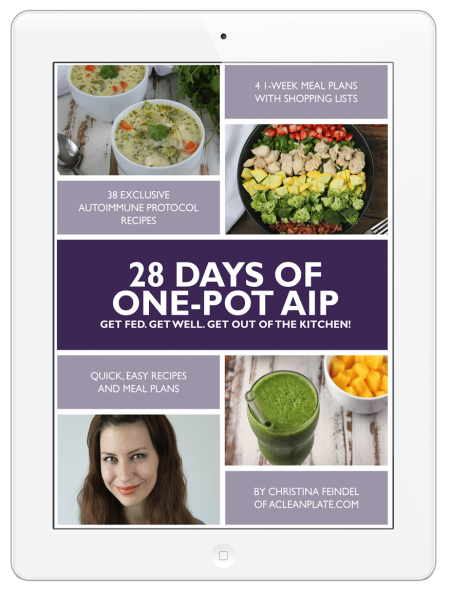 When you're dealing with fatigue, pain, or illness, eating healthy is hard enough without having to multitask while cooking or clean up a huge mess afterwards. That's why one-pot meals are my favorite. 28 Days of One-Pot AIP is exactly what it sounds like: A 28-day meal plan featuring only 100% autoimmune protocol, one-pot recipes. There's an intro to explain the AIP and one-pot cooking and the preparation is so much simpler when you've only got one thing to keep track of. Plus, you'll be amazed at the variety of flavors still available to you, like my Chicken Pot Pie Soup, satisfying green smoothies, and colorful salads! The e-book is now available for $9.99.
Nutrition Facts
Calories:
932
kcal
Carbohydrates:
87
g
Protein:
17
g
Fat:
67
g
Saturated Fat:
39
g
Polyunsaturated Fat:
2
g
Monounsaturated Fat:
13
g
Cholesterol:
9
mg
Sodium:
1083
mg
Potassium:
1414
mg
Fiber:
19
g
Sugar:
46
g
Vitamin A:
1950
IU
Vitamin C:
384.5
mg
Calcium:
190
mg
Iron:
3.6
mg
Instructions
Place the broccoli in a pot with the 1/4 cup of water over medium-high heat and cover. Cooke the broccoli until it's bright green, then remove from heat and cover in cold water.

Drain the broccoli, then combine all ingredients in a salad bowl and toss. Chill before serving.