Noah is usually up for anything when it comes to meal time, but he loathes broccoli. One of my earliest memories of him is the phrase "They taste, feel, and look like little trees." The fact that I thought this was ridiculous never swayed him in the least. I kept trying to hide broccoli in soups and stir-fries, thinking he wouldn't mind it if I could overwhelm it with meat and/or sauce. Nope.But this salad changed everything. This salad embraces broccoli with a wide variety of textures and flavors. Not only did he go back for thirds, but he also asked how to make it so that he could have it more often. I have never been more proud of a recipe!
Keep Your Health on Track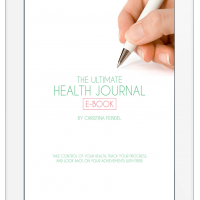 Whether you're starting the autoimmune protocol, a new medication, an exercise routine or trying to get to the bottom of your headaches or indigestion, cataloging your activities and symptoms is a great way to gauge your progress. The Ultimate Health Journal can help you stay on track with diet, fitness, and other lifestyle changes you have begun or been prescribed, notice patterns in your health and lifestyle so you can enact positive changes, and provide a valuable tool for you, your family, and your healthcare team. I would never have noticed that cinnamon makes me sneeze or dairy gives me hiccups without keeping a written record during my elimination diet, which helped me see the patterns that solved my problems! The ebook is available as a digital download with printable template for $6.99.
Nutrition Facts
Calories:
932
kcal
Carbohydrates:
87
g
Protein:
17
g
Fat:
67
g
Saturated Fat:
39
g
Polyunsaturated Fat:
2
g
Monounsaturated Fat:
13
g
Cholesterol:
9
mg
Sodium:
1083
mg
Potassium:
1414
mg
Fiber:
19
g
Sugar:
46
g
Vitamin A:
1950
IU
Vitamin C:
384.5
mg
Calcium:
190
mg
Iron:
3.6
mg
Instructions
Place the broccoli in a pot with the 1/4 cup of water over medium-high heat and cover. Cooke the broccoli until it's bright green, then remove from heat and cover in cold water.

Drain the broccoli, then combine all ingredients in a salad bowl and toss. Chill before serving.