Growing up, breakfast was always my favorite meal of the day. Scrambled eggs with ham and cheddar? Yes. French toast drenched in maple syrup? More, please. Crispy waffles, fluffy pancakes, bagels smothered in cream cheese, cinnamon rolls, spicy sausage, a quick bowl of cereal? Honestly, it didn't have to be breakfast. I'd reach for those things any time of day! And while I sometimes miss the flavors and convenience of some of those foods, I've been having a blast coming up with Paleo-friendly breakfasts to reach for over the years. (Five now since I did the autoimmune protocol! Wow!) And while my everyday breakfast more often than not consists of a quick smoothie and some leftover sausage, this Breakfast Pizza is kind of an amazing thing to whip out for weekend brunch. For only having four ingredients (plus the crust), it packs a huge variety of flavors, and takes relatively little effort to prepare! Especially if you happen to have leftover sausage and hashbrowns to use!
Looking for Low-Histamine Recipes?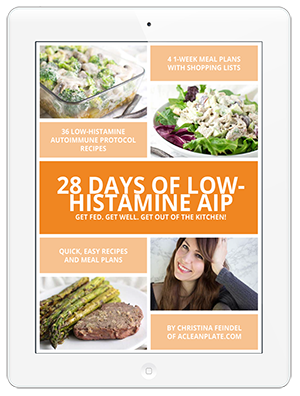 A low-histamine diet can be immensely helpful for MAST cell disorders or people with excess histamine production, but it's an extremely tricky diet to manage. My e-book 28 Days of Low-Histamine AIP combines low-histamine foods with the anti-inflammatory autoimmune protocol diet in a 28-day meal plan designed to jump start and simplify your diet change. The meal plan includes 36 simple, satisfying low-histamine recipes including a variety of dishes like Chicken Schawarma, Cabbage Roll Stir-Fry, and Chimichurri Steaks. You'll be amazed at all the flavors still available to you! The ebook is available as a digital download for $9.99.
Nutrition Facts
Calories:
414
kcal
Carbohydrates:
34
g
Protein:
21
g
Fat:
22
g
Saturated Fat:
8
g
Polyunsaturated Fat:
3
g
Monounsaturated Fat:
9
g
Cholesterol:
311
mg
Sodium:
1445
mg
Potassium:
815
mg
Fiber:
3
g
Sugar:
16
g
Vitamin A:
1400
IU
Vitamin C:
23.9
mg
Calcium:
60
mg
Iron:
2.5
mg
Instructions
Preheat the oven to 350 degrees F.

Combine the crust ingredients in a high-powered blender or food processor and puree until smooth.

Pour the batter onto a parchment-lined baking sheet and spread into a 1/4"-thick circle with a spatula. Bake for 15 minutes.

Spread the salsa on top of the crust, then top with hashbrowns and sausage.

Crack the eggs on top of the pizza and return to the oven until the eggs are set, 10-15 minutes.