This Blueberry Lemonade recipe is easy, peasy… well, you know the rest! Who doesn't love lemonade? It's the first thing you want to reach for on a hot summer's day. It's super easy to make and so very satisfying. Even more so if you happen to have lemons in your backyard. Just about any fruit pairs well with lemonade, but blueberry and mint make for an extra-refreshing combination. If you like, you can muddle the blueberries with the mint to get a bit to get more of their juices and flavor (as well as their beautiful color) into the lemonade, or you can leave them undisturbed. I quite like eating the ice-cold, lemonade-soaked blueberries left at the bottom of my glass afterwards!
Make your own non-toxic cosmetics!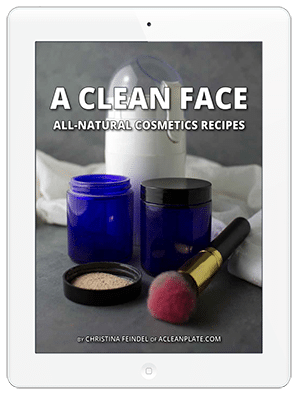 I may make my living as a food blogger, but journey toward a more health-conscious lifestyle actually began with making my own cosmetics while I was still in high school–many years before I started "clean eating". Desperate to get a handle on my sensitive skin and nose, I was also hoping for cheaper, more eco-friendly alternatives to store-bought products. If you're in the same boat, making your own cosmetics and toiletries is easier than you might think! My e-book A Clean Face will give you the tools you need to get started for just $9.99.
Ingredients
8

cups

water

(cold)

1

cup

lemon juice

(fresh)

2 1/2

tablespoons

mint

(chopped)

1

cup

blueberries

(fresh or frozen)
Equipment
Nutrition Facts
Calories:
27
kcal
Carbohydrates:
8
g
Protein:
1
g
Fat:
0.1
g
Saturated Fat:
0.02
g
Polyunsaturated Fat:
0.1
g
Monounsaturated Fat:
0.02
g
Sodium:
2
mg
Potassium:
86
mg
Fiber:
1
g
Sugar:
4
g
Vitamin A:
5
%
Vitamin C:
30
%
Calcium:
2
%
Iron:
2
%
Instructions
Combine all ingredients in a pitcher and chill in the fridge for several hours.

Serve over ice, garnished with lemon slices or extra mint leaves.