Who doesn't love a simple entree? Something you can throw together real quick and forget about while you make the side dishes. Something that only requires a few minutes of your attention while its cooking and won't require a whole lot of clean-up afterwards. That's definitely my favorite kind of recipe! Steaks are an obvious choice when you're looking for something quick and easy for your protein (although most types of fish are equally low-maintenance, steaks tend to be more affordable). I usually coat mine in garlic and salt (a la my Garlic Steak with Lemon-Pepper Asparagus) and fry them up in a pan, but I recently came into a nice big harvest of rosemary and have been putting it in just about everything. When looking for a flavor to pair with it for these Balsamic-Rosemary Steaks, I vacillated between balsamic vinegar and lemon and think you could use either one in these if you aren't a fan of balsamic vinegar (gasp!). Just swap the vinegar for an equal amount of lemon juice and you're good to go!
Budget-Friendly AIP Cookbook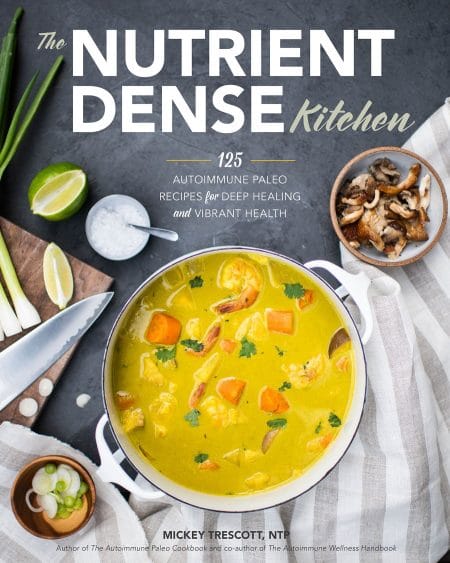 The Nutrient Dense Kitchen is a beautiful, simple cookbook all about helping you understand which ingredients will give you the most nutritional bang for your buck, and showing you how to incorporate them into your diet in efficient, budget-friendly, and delicious ways. With 125 AIP recipes and 5 meal plans, it's a cookbook you're guaranteed to cherish. Now available on Amazon.
Nutrition Facts
Calories:
480
kcal
Carbohydrates:
5
g
Protein:
46
g
Fat:
29
g
Saturated Fat:
12
g
Polyunsaturated Fat:
1
g
Monounsaturated Fat:
12
g
Cholesterol:
106
mg
Sodium:
599
mg
Potassium:
754
mg
Fiber:
1
g
Sugar:
2
g
Vitamin A:
100
IU
Vitamin C:
3.3
mg
Calcium:
100
mg
Iron:
4.1
mg
Instructions
Combine all ingredients in a mixing bowl and marinate in the refrigerator at least 30 minutes.

Preheat the oven to broil and line a baking sheet with parchment paper.

Arrange the steaks on the sheet in a single layer and broil 5 minutes on each side or until cooked to your liking.