Asparagus is my favorite vegetable. Not just because its tart, earthy taste pairs well with just about everything–lemon and bacon are fairly traditional toppings, but I've also served mine with sweet honey-orange sauce or even date paste–but because it's so darn easy to prepare. No peeling or chopping required, what's not to love? Just break off those tough woody ends, give 'em a rinse, and you're good to go. With a light, Asian-inspired sauce, this Bacon-Wrapped Asparagus combines one of my favorite accompaniments, bacon, with one of my favorite cuisines. It's a side dish that's full-flavored and the perfect pairing for beef, pork, fish, and chicken alike. It's also a cinch to throw together while you're working on the rest of your meal!
Keep Your Health on Track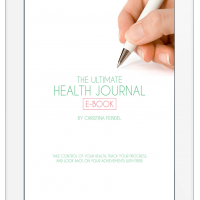 Whether you're starting the autoimmune protocol, a new medication, an exercise routine or trying to get to the bottom of your headaches or indigestion, cataloging your activities and symptoms is a great way to gauge your progress. The Ultimate Health Journal can help you stay on track with diet, fitness, and other lifestyle changes you have begun or been prescribed, notice patterns in your health and lifestyle so you can enact positive changes, and provide a valuable tool for you, your family, and your healthcare team. I would never have noticed that cinnamon makes me sneeze or dairy gives me hiccups without keeping a written record during my elimination diet, which helped me see the patterns that solved my problems! The ebook is available as a digital download with printable template for $6.99.
Nutrition Facts
Calories:
155
kcal
Carbohydrates:
9
g
Protein:
6
g
Fat:
11
g
Saturated Fat:
2
g
Polyunsaturated Fat:
2
g
Monounsaturated Fat:
7
g
Cholesterol:
9
mg
Sodium:
355
mg
Potassium:
283
mg
Fiber:
4
g
Sugar:
5
g
Vitamin A:
850
IU
Vitamin C:
9.1
mg
Calcium:
30
mg
Iron:
2.7
mg
Instructions
Preheat the oven to 400 degrees F and grease a small baking sheet with palm shortening or coconut oil.

Combine the avocado oil, aminos, honey, garlic powder, and ginger, then toss with the asparagus to coat.

Divide the asparagus up into four equal-sized bundles and wrap each bundle with a strip of bacon. Secure with a toothpick if necessary.

Place the bundles at least 1" apart on the baking sheet. Bake 20 minutes or until the bacon is crisp-tender and the asparagus is cooked through.