Asparagus is my favorite vegetable. Not just because its tart, earthy taste pairs well with just about everything–lemon and bacon are fairly traditional toppings, but I've also served mine with sweet honey-orange sauce or even date paste–but because it's so darn easy to prepare. No peeling or chopping required, what's not to love? Just break off those tough woody ends, give 'em a rinse, and you're good to go. With a light, Asian-inspired sauce, this Bacon-Wrapped Asparagus combines one of my favorite accompaniments, bacon, with one of my favorite cuisines. It's a side dish that's full-flavored and the perfect pairing for beef, pork, fish, and chicken alike. It's also a cinch to throw together while you're working on the rest of your meal!
Are you suffering from adrenal fatigue?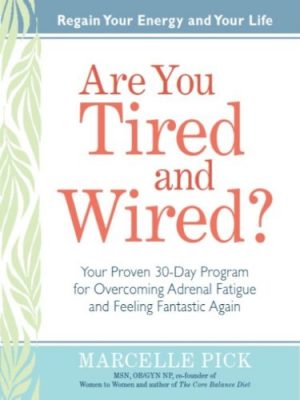 Are You Tired and Wired? is one of my favorite books on adrenal fatigue with chronic illness. It's a comprehensive yet straightforward examination of the factors at work and home that contribute to chronic adrenal dysfunction and the diet, lifestyle adjustments, and emotional reprogramming that can help fix it. A healthcare provider with a focus on women's health, Marcelle Pick will help you identify what type of adrenal dysfunction you suffer from and provide an easy-to-follow, science-based program to help you restore balance to your life. I found it extremely helpful with my own chronic fatigue!
Nutrition Facts
Calories:
155
kcal
Carbohydrates:
9
g
Protein:
6
g
Fat:
11
g
Saturated Fat:
2
g
Polyunsaturated Fat:
2
g
Monounsaturated Fat:
7
g
Cholesterol:
9
mg
Sodium:
355
mg
Potassium:
283
mg
Fiber:
4
g
Sugar:
5
g
Vitamin A:
17
%
Vitamin C:
11
%
Calcium:
3
%
Iron:
15
%
Instructions
Preheat the oven to 400 degrees F and grease a small baking sheet with palm shortening or coconut oil.

Combine the avocado oil, aminos, honey, garlic powder, and ginger, then toss with the asparagus to coat.

Divide the asparagus up into four equal-sized bundles and wrap each bundle with a strip of bacon. Secure with a toothpick if necessary.

Place the bundles at least 1" apart on the baking sheet. Bake 20 minutes or until the bacon is crisp-tender and the asparagus is cooked through.