Asparagus is my favorite vegetable. Not just because its tart, earthy taste pairs well with just about everything–lemon and bacon are fairly traditional toppings, but I've also served mine with sweet honey-orange sauce or even date paste–but because it's so darn easy to prepare. No peeling or chopping required, what's not to love? Just break off those tough woody ends, give 'em a rinse, and you're good to go. With a light, Asian-inspired sauce, this Bacon-Wrapped Asparagus combines one of my favorite accompaniments, bacon, with one of my favorite cuisines. It's a side dish that's full-flavored and the perfect pairing for beef, pork, fish, and chicken alike. It's also a cinch to throw together while you're working on the rest of your meal!
Keep your household clean, too!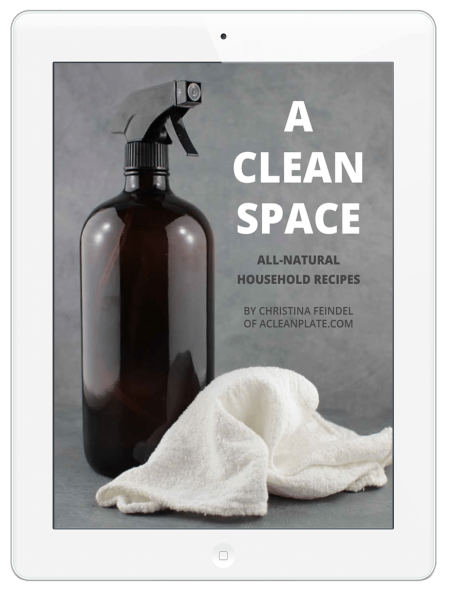 I may make my living as a food blogger, but my health-consciousness actually began long before I started cooking. Growing up with a sensitive nose and skin that would break out into a rash at the slightest provocation, I've been making my own cosmetics and cleaning products since high school. I hoped that avoiding these environmental toxins would not only improve my health, but be better for the environment and save me some money compared to buying high-end non-toxic products at a health-foods store. Whatever your reasons, making your own household products is easier than you might think. My e-book A Clean Space has all the tips, tricks, and recipes you need to get started–and it's only $6.99!
Nutrition Facts
Calories:
155
kcal
Carbohydrates:
9
g
Protein:
6
g
Fat:
11
g
Saturated Fat:
2
g
Polyunsaturated Fat:
2
g
Monounsaturated Fat:
7
g
Cholesterol:
9
mg
Sodium:
355
mg
Potassium:
283
mg
Fiber:
4
g
Sugar:
5
g
Vitamin A:
850
IU
Vitamin C:
9.1
mg
Calcium:
30
mg
Iron:
2.7
mg
Instructions
Preheat the oven to 400 degrees F and grease a small baking sheet with palm shortening or coconut oil.

Combine the avocado oil, aminos, honey, garlic powder, and ginger, then toss with the asparagus to coat.

Divide the asparagus up into four equal-sized bundles and wrap each bundle with a strip of bacon. Secure with a toothpick if necessary.

Place the bundles at least 1" apart on the baking sheet. Bake 20 minutes or until the bacon is crisp-tender and the asparagus is cooked through.