These impressive breakfast/brunch treats are easy to make and very presentable!
Looking for Low-FODMAP Recipes?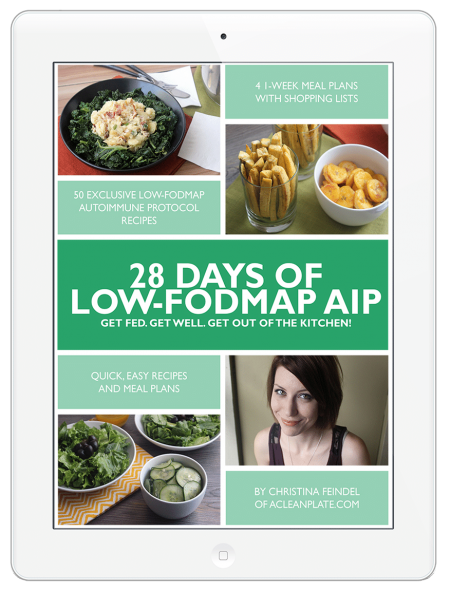 The low-FODMAP diet is often prescribed for people with IBS or Small Intestinal Bacterial Overgrowth (SIBO), and there's a huge overlap of that demographic with people with autoimmune disease. My e-book 28 Days of Low-FODMAP AIP combines both IBS- and autoimmune-friendly diets in a 28-day meal plan designed to jump start and simplify this often-challenging diet change. Just you wait: The meal plan includes 50 exclusive low-FODMAP recipes you won't find on my website or anywhere else, with dishes like Chicken Vindalo, Jambalaya, and crispy, crunchy Tostones. You'll be amazed at the variety of flavors still available to you! The ebook is available as a digital download for $9.99.
Nutrition Facts
Calories:
159
kcal
Carbohydrates:
1
g
Protein:
12
g
Fat:
12
g
Saturated Fat:
4
g
Polyunsaturated Fat:
1
g
Monounsaturated Fat:
5
g
Cholesterol:
204
mg
Sodium:
556
mg
Potassium:
179
mg
Fiber:
0.4
g
Sugar:
1
g
Vitamin A:
5
%
Vitamin C:
2
%
Calcium:
2
%
Iron:
7
%
Instructions
Preheat the oven to 375F.

Cut the bacon strips into thirds. Place 3-4 strips of bacon side-by-side but slightly overlapping into the bottom of a muffin pan, essentially creating bacon lining.

Bake for 15 minutes.

Crack an egg into each and sprinkle with salt and pepper. Return to the oven for 10 minutes.

Sprinkle the veggies on top, then bake another 5 minutes or until the egg is set and the bacon is crispy. Serve hot.