My favorite meal is any meal that doesn't require a lot of effort to make or dirty dishes to clean up afterwards. So I guess you could say this Asparagus Shrimp Stir-Fry is probably my all-time favorite meal. Aside from the oil to cook it in, it's got only five ingredients and is ready in about fifteen minutes from start to finish. Never mind that it's a delicious autoimmune protocol-friendly dish! Now, I've had a somewhat rocky relationship with shrimp in the past, but this simple lemon-garlic sauce perfectly masks or complements its flavor depending on how you feel about it. Add a couple handfuls of spinach or diced sweet potato if you want to make this a complete meal on its own, or serve it up with an easy side like cauliflower rice or mashed sweet potatoes! It's also tasty with a garnish of bacon if you don't mind cooking up some of that first (it's okay, you can use the same pan).
Struggling with thyroid disease?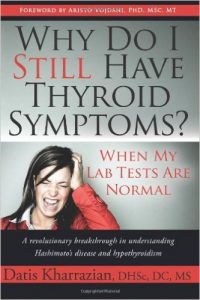 Why Do I Still Have Thyroid Symptoms? by functional medicine practitioner Datis Kharrazian is single-handedly responsible for my improved health over the past few years. It introduced me to the connection between autoimmune disease and lifestyle factors like diet at a time when my doctors were telling me there was nothing wrong with my thyroid even though I had high antibodies. This book gave me the information I needed to get the right tests ordered and seek proper treatment. It's a must-have guide for anyone who has already been diagnosed with thyroid disease, who is at risk due to family history, or who strongly suspects they may have it but isn't sure where to start. I can't recommend it enough!
Nutrition Facts
Calories:
263
kcal
Carbohydrates:
8
g
Protein:
34
g
Fat:
10
g
Saturated Fat:
7
g
Polyunsaturated Fat:
1
g
Monounsaturated Fat:
1
g
Cholesterol:
235
mg
Sodium:
829
mg
Potassium:
460
mg
Fiber:
3
g
Sugar:
2
g
Vitamin A:
21
%
Vitamin C:
22
%
Calcium:
11
%
Iron:
34
%
Instructions
Heat the oil in a skillet over medium-high heat.

Add the shrimp, asparagus, lemon juice, and garlic and cook, stirring, until the shrimp is pink, about 4 minutes.

Add the broth and simmer until the asparagus is tender, 3-5 minutes.