My favorite meal is any meal that doesn't require a lot of effort to make or dirty dishes to clean up afterwards. So I guess you could say this Asparagus Shrimp Stir-Fry is probably my all-time favorite meal. Aside from the oil to cook it in, it's got only five ingredients and is ready in about fifteen minutes from start to finish. Never mind that it's a delicious autoimmune protocol-friendly dish! Now, I've had a somewhat rocky relationship with shrimp in the past, but this simple lemon-garlic sauce perfectly masks or complements its flavor depending on how you feel about it. Add a couple handfuls of spinach or diced sweet potato if you want to make this a complete meal on its own, or serve it up with an easy side like cauliflower rice or mashed sweet potatoes! It's also tasty with a garnish of bacon if you don't mind cooking up some of that first (it's okay, you can use the same pan).
Make your own non-toxic cosmetics!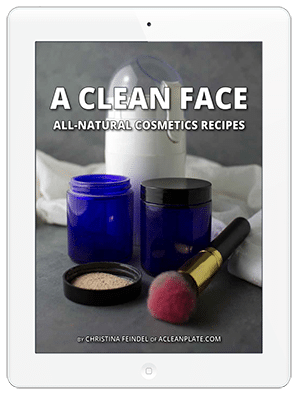 I may make my living as a food blogger, but journey toward a more health-conscious lifestyle actually began with making my own cosmetics while I was still in high school–many years before I started "clean eating". Desperate to get a handle on my sensitive skin and nose, I was also hoping for cheaper, more eco-friendly alternatives to store-bought products. If you're in the same boat, making your own cosmetics and toiletries is easier than you might think! My e-book A Clean Face will give you the tools you need to get started for just $9.99.
Nutrition Facts
Calories:
263
kcal
Carbohydrates:
8
g
Protein:
34
g
Fat:
10
g
Saturated Fat:
7
g
Polyunsaturated Fat:
1
g
Monounsaturated Fat:
1
g
Cholesterol:
235
mg
Sodium:
829
mg
Potassium:
460
mg
Fiber:
3
g
Sugar:
2
g
Vitamin A:
1050
IU
Vitamin C:
18.2
mg
Calcium:
110
mg
Iron:
6.1
mg
Instructions
Heat the oil in a skillet over medium-high heat.

Add the shrimp, asparagus, lemon juice, and garlic and cook, stirring, until the shrimp is pink, about 4 minutes.

Add the broth and simmer until the asparagus is tender, 3-5 minutes.