I may live in the most open-minded part of Texas, but I think even a lot of Austinites would give me crap for daring to serve ribs any way but barbecued! And hey, I still think barbecue is one of the best things you can do with a cow or pig (yeah, that includes bacon)! But I also like trying new things and these sticky, honey-glazed Asian-inspired ribs are a really tasty new thing. Serve 'em with rice (or cauliflower rice) and some steamed vegetables for a complete meal that comes together without a whole lot of fuss.
Keep it Simple with Freezer Cooking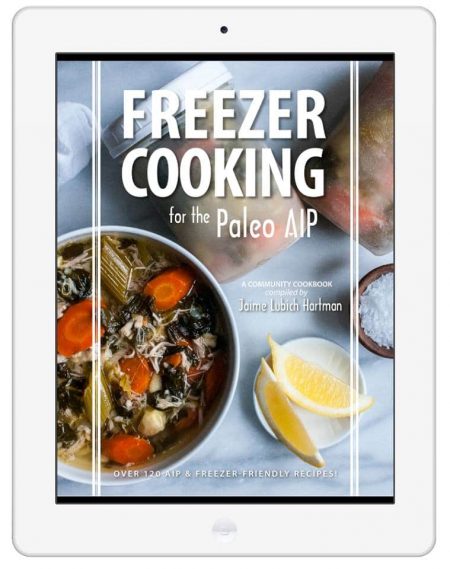 Preparing meals ahead of time and keeping them on hand in the freezer is one of the best ways to make any diet change sustainable. You'll wind up spending less time in the kitchen most days and will always have something ready to go when hunger or cravings strike. With Freezer Cooking for the Paleo AIP, you'll get 123 tried-and-true recipes from 30 of your favorite autoimmune protocol bloggers to help you out. Designed for batch cooking and advance prep, each recipe includes instructions for storing, freezing, and reheating it. There are recipes for every meal of the day and recipes for special occasions, too! The ebook is now available as a digital download for $18.90.
Nutrition Facts
Calories:
384
kcal
Carbohydrates:
51
g
Protein:
14
g
Fat:
16
g
Saturated Fat:
5
g
Polyunsaturated Fat:
2
g
Monounsaturated Fat:
2
g
Cholesterol:
40
mg
Sodium:
1748
mg
Potassium:
131
mg
Fiber:
8
g
Sugar:
39
g
Vitamin A:
3
%
Vitamin C:
16
%
Calcium:
4
%
Iron:
6
%
Instructions
Combine all the marinade ingredients together in a large dish (you may have to cut the ribs into smaller racks) and refrigerate overnight.

Preheat the oven to 300F. Bake the ribs on a foil-lined baking sheet for 2 hours.

Combine the glaze ingredients and brush half over the ribs, then return to the oven for 15 minutes.

Brush the remaining glaze over the ribs and set the oven to broil.

Broil until crispy, about 3-4 minutes, then remove from the oven.

Combine the dressing ingredients together and serve alongside or on top of the ribs.