I started blogging when I was 13. At first, I just shared art, poetry, and short stories. When I took up veganism at the age of 15, I started sharing recipes. And I kept on sharing them as well as my personal experiences as I was diagnosed with autoimmune diseases and took up the AIP at the age of 22. All my life, blogging has been a fantastic way to combine my interests in web design, art, writing, and cooking. I never imagined very many people would stumble across my little corner of cyberspace and I definitely never imagined that very many people would actually like what they saw. I don't know where all of you came from, but I'm glad you're here. Because of you, this blog has become more than a fun little hobby: It's become a full-time career I'm passionate about, one that affords me the opportunity to connect with other autoimmune patients, share incredible stories of healing, and keep doing creative things. So I wanted to celebrate this blogiversary with an AIP Chocolate Cake! Baking on the autoimmune protocol is a necessarily creative endeavor, but I like to keep things simple. With carob for flavor, plantain, banana, and pumpkin for binding, a few fall seasonings to add some depth, and a creamy banana-avocado frosting, you might be thinking "this cake sounds weird". But it's everything you want in a cake: Moist, rich, and decadent with just the faintest banana flavor.
Keep Your Health on Track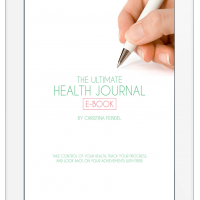 Whether you're starting the autoimmune protocol, a new medication, an exercise routine or trying to get to the bottom of your headaches or indigestion, cataloging your activities and symptoms is a great way to gauge your progress. The Ultimate Health Journal can help you stay on track with diet, fitness, and other lifestyle changes you have begun or been prescribed, notice patterns in your health and lifestyle so you can enact positive changes, and provide a valuable tool for you, your family, and your healthcare team. I would never have noticed that cinnamon makes me sneeze or dairy gives me hiccups without keeping a written record during my elimination diet, which helped me see the patterns that solved my problems! The ebook is available as a digital download with printable template for $6.99.
Nutrition Facts
Calories:
207
kcal
Carbohydrates:
30
g
Protein:
1
g
Fat:
9
g
Saturated Fat:
7
g
Polyunsaturated Fat:
1
g
Monounsaturated Fat:
2
g
Sodium:
202
mg
Potassium:
356
mg
Fiber:
3
g
Sugar:
17
g
Vitamin A:
1900
IU
Vitamin C:
13.2
mg
Calcium:
30
mg
Iron:
0.5
mg
Instructions
Preheat the oven to 350F and lightly grease a 8" square pan with coconut oil or any other cooking fat.

Combine all cake ingredients in a high-powered blender and process until smooth.

Spread the batter into the cake pan and bake for 25-30 minutes or until a toothpick inserted into center comes out clean.

Combine all ingredients for the frosting in a blender and process until smooth.

Allow the cake to cool before frosting. Store in the fridge.