Last week was invisible illness awareness week, and a ton of bloggers took to writing for the cause. I decided to do their meme and meant to post it last week… but forgot. Oops. I was going to write a short intro about why awareness is important, but the meme itself actually covers that, so, I'll cut right to it:
The illness I live with is: Hashimoto's and Celiac disease.
I was diagnosed with it in the year: 2011, at the age of 22, shortly after graduating from college.
But I had symptoms since: I remember having mood problems (depression, mania) as early as age 7, and most of my other symptoms (joint pain, chest pain, tachycardia, amenorrhea, abdominal pain, headaches) began around age 13.
The biggest adjustment I've had to make is: Learning to love my body, lifestyle, and life in general when I am constantly juggling these problems as well as the more common ones of career, relationships, etc. The most overwhelming one is food, because I can't eat out, have to cook 3-4 meals a day, and have trouble getting around that food problem in social settings — I have to make excuses when people offer me food or want to go out to eat, and I have to really plan ahead if I'm going to be out and about. I have to find a lot more time to cook, eat, and otherwise take care of myself than most people's daily budgets allow for.
Most people assume: That I am perfectly capable, and the disappointments in my life are simply from lack of trying and/or lack of focus. I do think I could do anything I set my mind to, but right now my mind is 100% set on "protecting my health for the long term". I don't have the time or energy left over to "start a respectable career" or "wrangle my love life" or even "do my hair and makeup every day so that I look as hot as I used to".
The hardest part about mornings are: Budgeting for the day ahead. I know as soon as I open my eyes that I need to cook breakfast for two, make my man's lunch for work, cook my own lunch, and then prepare a meal for two at dinner and a snack before bed… while keeping the apartment clean, taking care of a sick cat, and trying to find time for the things I actually want to do like work, dress up in something other than pajamas, or spend quality time with my man while I still feel up to it.
My favorite medical TV show is: House is the only one I've ever watched. I kept waiting for an episode that would mention Hashimoto's and finally got it near the end of the last season — but it was only mentioned in passing, as in "It's not Hashimoto's". Still, every time they posited an autoimmune disease, I was all ears. Otherwise, I was mostly in it because House himself was such a badass.
A gadget I couldn't live without is: My laptop, I guess? I don't have very many gadgets, and I don't really use any in the kitchen anymore. I still have a Blendtec and a juicer, but they're tucked away somewhere since I gave up fruit and juicing. "Quick and easy" is my deal, which includes clean-up, so I usually just throw a salad together. One bowl, one fork, in the dishwasher, done. On the other hand, I don't know what I would do without a Mac.
The hardest part about nights are: Winding down enough to sleep. My adrenals are almost always in a high-stress state, giving me a lot of frantic energy. I get exhausted easily, but I am rarely sleepy. I toss and turn all night and often wake up as exhausted as I was the day before.
Each day I take: 14 pills/powders/drops, including my Armour, D3, multivitamin, B complex, and other supplements… but I almost always forget, because I have to take them with meals and get so caught up cooking, eating, and cleaning up that my various pills get forgotten. I recently started using an iPhone app that catalogs your various medications and supplements and reminds, even nags, you to take them at their appropriate times. Since it doesn't stop beeping until you check off that yes, you did take every item listed, it's a great tool for keeping track.
Regarding alternative treatments, I: am skeptical of a lot of things, but also practice a lot of things I was skeptical of only a year or two ago. I think it's important to keep an open mind and embrace the possibilities because modern medicine sure isn't solving our problems… but to also be wary of scams and to make reasonable investments. $50 for a supplement I've heard a lot of positive things about from a lot of different people, okay, I'll try it. $300 to soak my feet in special ionized water for 45 minutes? Yeah… no.
If I had to choose between an invisible illness or visible I would choose: That's a tough one. I'm sure people with visible illnesses get tired of wearing it like a badge for all to see so that even on your good days, you have to deal with it. On the days I feel great, I'm glad no one can tell that most of the time, I don't. On the other hand, hardly anyone takes me seriously when I feel like crap. The only outward signs of my illness are acne, chapped lips, thinning hair, and being way too skinny — nothing anyone would think twice about. I don't like when people say "but you look great!", because that is no comfort when you feel like hell, or ask how I manage to stay so skinny. "Here, have my autoimmune thyroid disease," I want to say. "You'll get migraines if you cheat on your restricted meats-and-veggies diet and you spend half the day nauseous anyway, so, there's no better incentive to stick with your diet out there!"
Regarding working and career: I haven't quite figured that out yet. I obviously need to make enough money to pay for my medical expenses (including supplements and diet) and have long-term benefits that could get me through retirement. However, I need a job that is low-stress, has flexible hours for the days I am really sick, and still allows me enough time in the day to prep all my meals, go for a walk, and do the other activities I have to do to maintain my health — never mind my apartment and relationship. I know a lot of Hashi's patients that work from home as novelists or editors — which, ten years ago, would have sounded like a dream to me — but I find I don't really have the mental focus for, well, those entirely mental tasks. I think I do best with work I can sort of tune out during. The best job I ever had was as a janitor — sure, I was mopping floors all night, but I was also listening to audiobooks, music, and Spanish lessons!
People would be surprised to know: That I am not nearly as strong as the face I present. I don't break down and cry at the thought of what's happened to me like I used to, not because I am in a better place but because I know it won't do any good. I feel that if I start to process all of the things I really hate about my life, there's no coming back from that. I have to ignore all those things if I'm ever going to manage to get out of bed and get on with my day. Staying positive is really hard work, and there are a lot of days — even good days — when I just want to give up on everything.
The hardest thing to accept about my new reality has been: Having to make compromises to accommodate my health. Giving up on certain dreams, missing out on certain relationships, being 100% certain that I will never have a normal family, having to prep every last thing I eat from scratch by myself….
Something I never thought I could do with my illness that I did was: Work a full-time manual labor job and support myself 100%. It only lasted for 6 months because the late-night hours caused too much adrenal stress, but I think I will always look back on that job as the best thing that ever happened to me. It came during one of the darkest times in my life and proved that I was more capable than I had ever imagined. I made decent money, worked long hours, got a lot of exercise… and got to play with puppies!
The commercials about my illness: I don't think there are any. I see some that have to do with autoimmune diseases (like psoriasis) that get me pretty upset about how misleading they are. I have a friend whose dad had psoriasis, and just before she got the news of his sudden death she'd seen that commercial stating that psoriasis is the result of an "overactive immune system." When she told me she'd thought "I'm glad my dad is well-protected from bugs" just minutes before hearing he'd died, it broke my heart. I couldn't bear to wonder whether he died because his immune system was too busy attacking his own cells to protect him from those bugs.
Something I really miss doing since I was diagnosed is: Theatre. I did it all through high school, and it was a blast. I miss long rehearsals with fun, talented creative types. I wanted so badly to do it in college, but I couldn't do that kind of stuff anymore. I can't commit to activities that long, regularly-scheduled, or mentally and physically demanding. I also miss just being able to pull food out of a box in the pantry and eat it right away without having to think about it. Boy, do we take "not cooking every time we're hungry" for granted.
It was really hard to have to give up: Oh, geez. When I think about foods, it doesn't feel so hard now that I've been without them. I had bad cravings for easy gluten foods like cereal and cinnamon rolls for a long time… often wanted to indulge in ice cream or cake… but now that they're gone, it doesn't seem so bad. I think the hardest thing to give up was my entire idea of what my future would be like. Getting diagnosed with a chronic illness forces you to wipe clean the slate you'd planned things on and start fresh: What am I realistically capable of now, career-wise? And will my current job accommodate my new-found needs? If I have to look for a new one, where do I start? Is my casual relationship ready to get as serious as I'm now going to require? If so, is that really what I want, and if not, what's dating going to be like now? Will I be able to raise — or even afford — kids someday? And what does my partner think about the fact that we'd have to adopt or be childless? Will my friends understand that I can't keep up with their lifestyles any more and will need to make other plans if we are going to stay in touch? You pretty much have to second-guess everything you do and everything you ever thought you'd do.
A new hobby I have taken up since my diagnosis is: Gaming, I guess. I was always a bit of a gamer, but started to grow out of it in high school and never would have dreamed of playing an MMO. Since getting sick, though, I play them all the time. It's the easiest way for me to escape for a bit, do something "normal" and not disease-related, and most of the time, it's the only social activity I get, with friends and family on wildly differing schedules. I'd like to take up a laid-back, in-person social hobby, but I can't imagine what that'd be. Book club? That idea has me flashing back to too many high school English round circle discussions of books I hated having to read….
If I could have one day of feeling normal again I would: Goodness, I don't know. I'd like to think I'd do something crazy, catch up with friends I haven't seen in a long time, or indulge in all the foods I used to enjoy so much. But I think that all I want is to sit back and relax. Just one day where I don't have to worry about cooking, cleaning, exercising, or anything else. I think it's not so much that I'd like to feel normal again, but that I'd like to wind back time to before I got sick, when I was surrounded by friends and felt the world was full of opportunities and possibilities. I feel like one day of feeling normal would be tainted by everything I've already been through and know I'd have to look forward to when the day was over — ignorance is a bliss you can never revisit, once lost.
My illness has taught me: Everything I've learned about nutrition, environmentalism, and general lifestyle changes aside, I've learned to appreciate "not being in pain", which I think is something everyone takes for granted. I've also learned who my real (or better, at least) friends are: The people that call when they hear through the grapevine that you aren't doing well. The people that pick you up when your car breaks down and you have a long-awaited doctor's appointment to get to. The people that unexpectedly do simple things for you without being asked, like bring over some groceries, help clean the kitchen, or show up for an impromptu movie night after you cancel "going out" because you're "not feeling up to it". I don't know very many of those people, but I will never forget the little things they did for me.
Want to know a secret? One thing people say that gets under my skin is: I already mentioned "how do you stay so thin?!" and "you look great!", so I'll go with people who say things like "Oh, I could never give up [insert dangerous food]. I'd rather live a short unhealthy life than a long unhappy one!" At first, when I started hearing this, I thought it was a bad joke. But I am hearing it from people who are utterly sincere and honestly use this as an excuse to not fight off the health problems they have. (It is especially aggravating from people whose health problems could be totally cured by diet changes. Cured. Do you know what I'd give to be able to cure myself just by giving up [insert food here]?!) First of all, as if food is the only thing that can make people happy. As if food is the only thing worth living for. I want to shake these people. "Are you honestly telling me that you're ready to have a heart attack right now? Right now. This instant. You don't get two weeks' notice for you to set your affairs in order and say goodbye to your loved ones. Just BAM, dead. You'd have no regrets? You wouldn't mind missing out on your kids' graduations, weddings, and grandkids for the sake of a cheeseburger? How do you think your kids feel about that?!" Honestly, the whole concept is nuts. NUTS.
But I love it when people: Surprise me. Someone offers to make an AIP-friendly dinner (yeah, right). Someone I haven't spoken to in a long time calls to check in. A stranger says something nice. Sick people who spend their days in pain are happier and more optimistic than healthy people, who often devise their own pain. Those same sick people are more compassionate, loving, and supportive than anyone, even to complete strangers. Getting random words of encouragement from random people for no reason other than that they're doing something nice.
My favorite motto, scripture, or quote that gets me through tough times is: I wish I had more of these. I don't really find solace in quotes or anything anyone else says (unless it is said specifically to or about me, because nothing feels better than being told you're loved or appreciated). The one thing I keep telling myself when things get bad is "You've got this! Breathe. Regroup. You've so got this!" Not very original or inspired, but it gets the job done.
When someone is diagnosed I'd like to tell them: It's a tough road, but you're not alone and you're going to be okay. There are so many resources out there to help you along, you just have to keep your spirits up enough to look for and make use of them. Health and well-being are worth any sacrifice you have to make to get there, and while it may not seem that way now, those sacrifices don't seem as huge once you've made them. You'll get there, and we're all here to help, support, and love you through it!
Something that has surprised me about living with an illness is: I was surprised to find that getting diagnosed did not solve any of my problems. The drugs don't work. Diet changes are only a partial solution. There is no quick-fix or one-size-fits-all treatment. It's all about trial and error and getting well (or even regularly feeling "just okay") could take years of experimenting, optimism, and determination, and modern medicine is no help at all. Half the doctors I meet have no idea what my disease actually is, and none of them actually know what to do about it.
The nicest thing someone did for me when I wasn't feeling well was: Well, my mom would always get me food, but she'd usually get me something I couldn't eat because she could never remember what my diet was. I can't think of a really good specific example. But I can think of one that surprised me. I had just been diagnosed with MS and I didn't really want to talk about it, but I felt like I had to say something or explode. I just posted a short facebook status: MS. Brief, not obviously emo, just out there in the world and off my chest. Since no one knew I was having health problems, I didn't think anyone would make anything of it. But a girl I had never really been that close to called almost immediately to ask how I was. I will never forget that. No one else ever said anything about it, which is fine — I'm a little embarrassed to have posted about it. I didn't want anything said about it. But the fact that she called still means the world to me.
I'm involved with Invisible Illness Week because: I think it is important for people to realize how pervasive these diseases are… and how easily they could be prevented if we all changed the way we thought about our food, environment, and lifestyles. There are a ton of sick people in the world, and we all probably run into several every single day without realizing it. I don't think we should have to broadcast our illnesses to get the care we need, but right now, that's the way it is. The more people that know the role lifestyle plays in developing (and treating) these illnesses, the more people can be helped by that knowledge. Although autoimmune diseases are the result of a cocktail of factors, I whole-heartedly and with good reason believe that I would not be sick today if I had been brought up on a gluten-free diet. Being sick for the rest of my life is not worth the 20 years of bread and cereal I enjoyed before being diagnosed.
The fact that you read this list makes me feel: Hopeful that raising some awareness of what these kinds of illnesses entail will have everyone thinking twice about how they take care of their own health as well as how they treat others that do have — or might have — health problems. If you know someone with an invisible illness, I hope you'll consider doing something nice for them. If you don't want to develop an invisible illness of your own, I hope you'll be a little more choosy about what you eat. If you don't want your kids to develop an invisible illness, I hope you'll adopt a more eco-friendly lifestyle. I'm also grateful to be able to put these words out there and appreciate beyond words all of my readers and fellow bloggers. You guys mean the world to me!
Looking for Low-FODMAP Recipes?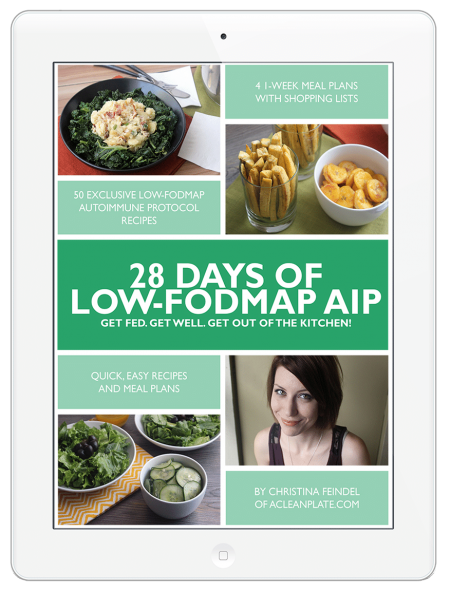 The low-FODMAP diet is often prescribed for people with IBS or Small Intestinal Bacterial Overgrowth (SIBO), and there's a huge overlap of that demographic with people with autoimmune disease. My e-book 28 Days of Low-FODMAP AIP combines both IBS- and autoimmune-friendly diets in a 28-day meal plan designed to jump start and simplify this often-challenging diet change. Just you wait: The meal plan includes 50 exclusive low-FODMAP recipes you won't find on my website or anywhere else, with dishes like Chicken Vindalo, Jambalaya, and crispy, crunchy Tostones. You'll be amazed at the variety of flavors still available to you! The ebook is available as a digital download for $9.99.