I've missed s'mores. A lot. Every now and then, I'll cave, and I'll have them on gluten-free graham crackers, but the crackers aren't very good. Nothing at all like the thin, crispy graham crackers of my youth. And then, one day, while ogling someone's delectable photos of chocolate-covered watermelon and thinking of my whipped cream-covered Watermelon Cake, it dawned on me: Watermelon goes great with chocolate and also goes great with fluffy, creamy, sweet white stuff. Like marshmallows. Watermelon S'mores were born. With the combination of toasty-hot marshmallows and cool, crisp watermelon, I can't imagine this classic summer treat any other way. Get on it while the weather's still warm!
Looking for Low-Histamine Recipes?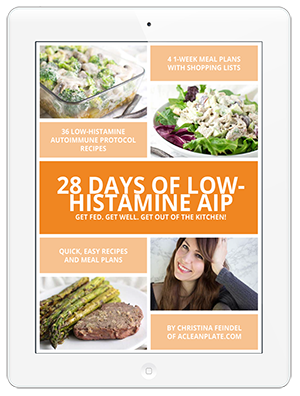 A low-histamine diet can be immensely helpful for MAST cell disorders or people with excess histamine production, but it's an extremely tricky diet to manage. My e-book 28 Days of Low-Histamine AIP combines low-histamine foods with the anti-inflammatory autoimmune protocol diet in a 28-day meal plan designed to jump start and simplify your diet change. The meal plan includes 36 simple, satisfying low-histamine recipes including a variety of dishes like Chicken Schawarma, Cabbage Roll Stir-Fry, and Chimichurri Steaks. You'll be amazed at all the flavors still available to you! The ebook is available as a digital download for $9.99.
Nutrition Facts
Calories:
97
kcal
Carbohydrates:
18
g
Protein:
2
g
Fat:
3
g
Saturated Fat:
2
g
Polyunsaturated Fat:
0.1
g
Monounsaturated Fat:
0.2
g
Sodium:
4
mg
Potassium:
235
mg
Fiber:
1
g
Sugar:
15
g
Vitamin A:
1200
IU
Vitamin C:
23.1
mg
Calcium:
10
mg
Iron:
1.1
mg
Instructions
Cut the watermelon into 2" squares, discarding rind and any large seeds.

Toast the marshmallows either on skewers over a grill or on a parchment-lined baking sheet under the broiler, about 1 1/2 minutes or until golden-brown. Place them on top of the watermelon squares and smoosh them flat with a utensil.

Combine the carob and coconut oil in a small bowl, mixing well. Add more carob powder or a drizzle of honey to taste.

Drizzle the "chocolate" sauce over the marshmallows, then serve.