Remember when whole-grain sandwiches were considered healthy? I worked next door to a Quiznos in high school and Subway was one of the only vegetarian-friendly restaurants on campus in college, so I ate my fair share of foot-long subs before I knew about my Celiac disease. I'd thought I was doing myself a favor filling my diet with whole grains and veggies (even if those veggies were iceberg lettuce, bell peppers, and tomatoes). Well, inspired by my favorite order from Subway, this Veggie Delight Salad has all the flavor of your favorite sandwich-shop veggies and none of the crap. I almost always have all of the ingredients on hand, so I make these all the time to get rid of leftover onions, olives, and greens. It's a highly-adaptable recipe if you need to omit something or add in something else to get rid of (like summer squash or mushrooms). If you aren't following the autoimmune protocol, I recommend pairing it with a mayonnaise-based dressing like Caesar or making your own sandwich-inspired mix of mayonnaise, mustard, salt, and pepper. You can also add leftover chicken, turkey, or ham if you need a heartier meal!
All-natural, organic makeup and skin care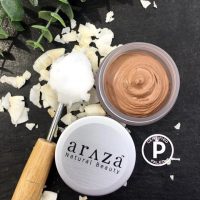 Araza Natural Beauty, founded by two sisters with Celiac disease, is the first Paleo-certified beauty company to offer a full range of products for skin, eyes, cheeks, and lips–all of which are additive, dairy, and gluten free. In all my years of experimenting with natural makeup, this has become my favorite, fool-proof brand for everyday looks!
Nutrition Facts
Calories:
266
kcal
Carbohydrates:
24
g
Protein:
5
g
Fat:
18
g
Saturated Fat:
3
g
Polyunsaturated Fat:
2
g
Monounsaturated Fat:
13
g
Sodium:
853
mg
Potassium:
932
mg
Fiber:
7
g
Sugar:
12
g
Vitamin A:
28100
IU
Vitamin C:
78.4
mg
Calcium:
170
mg
Iron:
4.1
mg
Instructions
Combine all ingredients in a large salad bowl and toss well, then serve.