Vegetable Lo Mein was the only vegetarian dish my dorm's cafeteria had other than fruit and cereal, so I got sick of it pretty quick in my college days. It didn't help that cafeteria food is never very good to begin with even when you don't have to eat the same thing every day. So, despite my commitment to making healthier versions of just about every meal I can find, it took me a while to come around to making my own version of Vegetable Lo Mein at home… and boy, was I missing out! This is now one of my favorite meals to whip up to get rid of leftover veggies. I mean, it's good with just about everything! Pineapple? Sure. Spinach? Why not! Peas? You bet (unless you're on the AIP). It's one of those meals that's perfect for a busy weeknight or a lazy weekend or any other time you want something nutritious without having to work too hard for it. Once you cook the spaghetti squash, it really only takes a few minutes to prepare and the sauce is so simple for something so flavorful.
Looking for Low-Histamine Recipes?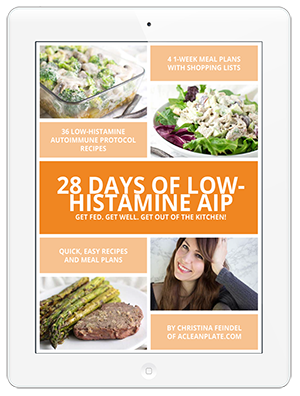 A low-histamine diet can be immensely helpful for MAST cell disorders or people with excess histamine production, but it's an extremely tricky diet to manage. My e-book 28 Days of Low-Histamine AIP combines low-histamine foods with the anti-inflammatory autoimmune protocol diet in a 28-day meal plan designed to jump start and simplify your diet change. The meal plan includes 36 simple, satisfying low-histamine recipes including a variety of dishes like Chicken Schawarma, Cabbage Roll Stir-Fry, and Chimichurri Steaks. You'll be amazed at all the flavors still available to you! The ebook is available as a digital download for $9.99.
Total Time:
1
hour
5
minutes
Nutrition Facts
Calories:
242
kcal
Carbohydrates:
38
g
Protein:
5
g
Fat:
10
g
Saturated Fat:
4
g
Polyunsaturated Fat:
2
g
Monounsaturated Fat:
3
g
Sodium:
1481
mg
Potassium:
1090
mg
Fiber:
9
g
Sugar:
15
g
Vitamin A:
10900
IU
Vitamin C:
31.4
mg
Calcium:
100
mg
Iron:
1.4
mg
Instructions
Preheat the oven to 400 degrees F and place the squash cut side-down on a baking sheet.

Bake 30-60 minutes depending on how big the squash is, until it's fork-tender. With a fork, shred the flesh into spaghetti-like strands.

Heat the oil in a skillet over medium-high heat, then add the veggies and cook until the mushrooms are tender.

Add the broth, honey, aminos, and salt, then serve atop hot spaghetti squash.