Sushi has long been one of our favorite treats on days we're either celebrating or just in need of a special pick-me-up to offer some comfort after a difficult day. When we moved out to the country, away from all our favorite haunts in Austin, we started doing sushi and poke bowls instead. All the same ingredients, just served up like a salad instead of a wrap. This Tuna Poke Bowl comes together in less than 15 minutes if you use pre-cooked cauliflower rice, and even if you don't, cauliflower rice doesn't take much longer to prepare. You can easily cook some up while you're chopping up your Poke Bowl ingredients! Other great toppings include steamed broccoli, bean shoots, edamame, seaweed flakes, and sesame seeds–not all of which are AIP, so be selective if you're on a restricted diet. For those of you that aren't, I recommend replacing the olive oil with toasted sesame oil for a more traditional flavor–and of course, you can use actual sushi rice if you want to. However you serve this Tuna Poke Bowl up, I hope you enjoy it!
Looking for more easy AIP recipes?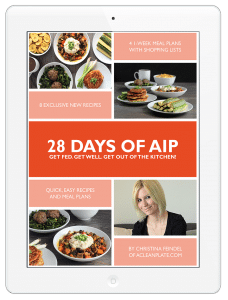 I know diet change can feel overwhelming. I started the autoimmune protocol at a time when only four other people were writing about it, and over the years, I've striven to give you the resources I wish I'd had when I got started. Not just recipes, but ways to implement them. My first ebook 28 Days of AIP is a meal plan that will help you get going (or get back on the wagon) with as little fuss as possible. With a variety of simple, delicious recipes, plenty of leftovers so you don't spend all your free time in the kitchen, and shopping lists ready to go, all you have to do is follow the plan, then sit down and enjoy your meal! It's available as a digital download for $9.99.
Instructions
In a bowl, combine the tuna, green onions, aminos, vinegar, syrup, olive oil, garlic, ginger, and salt.

Divide the rice between 4 serving bowls and top with equal parts tuna and sauce, cabbage, avocado, and cucumber.