This Thai Coconut Soup is a staple at restaurants–you'll find it on the menu as Tom Kha Gai. I've had it at every Thai place I've been to and each version is slightly different, usually in how spicy it is. I knew that if I could make it at home and control the spice level, it would be my all-time favorite soup. And I don't even like the taste of coconut milk! But here, it adds a little something that pairs very well with the mushrooms and broth. It's also a good way to sneak a little broccoli into your diet. (I'm always looking for ways to get broccoli past my husband.) This version is 100% autoimmune protocol-friendly, but you could add a splash of chili oil along with the lemon juice if you're not on the AIP and want something with a more traditional punch.
Keep Your Health on Track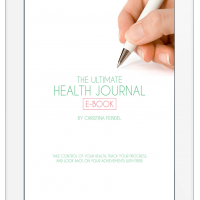 Whether you're starting the autoimmune protocol, a new medication, an exercise routine or trying to get to the bottom of your headaches or indigestion, cataloging your activities and symptoms is a great way to gauge your progress. The Ultimate Health Journal can help you stay on track with diet, fitness, and other lifestyle changes you have begun or been prescribed, notice patterns in your health and lifestyle so you can enact positive changes, and provide a valuable tool for you, your family, and your healthcare team. I would never have noticed that cinnamon makes me sneeze or dairy gives me hiccups without keeping a written record during my elimination diet, which helped me see the patterns that solved my problems! The ebook is available as a digital download with printable template for $6.99.
Nutrition Facts
Calories:
542
kcal
Carbohydrates:
41
g
Protein:
17
g
Fat:
38
g
Saturated Fat:
32
g
Polyunsaturated Fat:
1
g
Monounsaturated Fat:
2
g
Sodium:
2134
mg
Potassium:
1719
mg
Fiber:
9
g
Sugar:
13
g
Vitamin A:
96
%
Vitamin C:
233
%
Calcium:
14
%
Iron:
27
%
Instructions
Heat the fat in a large pot over medium heat, then add the onion and cook until soft.

Add the mushrooms and saute until tender, about 5 minutes.

Add the broth and milk and bring to a boil.

Reduce the heat to medium, add the broccoli and ginger, and cook another 5 minutes.

Stir in the lemon juice, salt, and cilantro, then serve.