This Thai Coconut Soup is a staple at restaurants–you'll find it on the menu as Tom Kha Gai. I've had it at every Thai place I've been to and each version is slightly different, usually in how spicy it is. I knew that if I could make it at home and control the spice level, it would be my all-time favorite soup. And I don't even like the taste of coconut milk! But here, it adds a little something that pairs very well with the mushrooms and broth. It's also a good way to sneak a little broccoli into your diet. (I'm always looking for ways to get broccoli past my husband.) This version is 100% autoimmune protocol-friendly, but you could add a splash of chili oil along with the lemon juice if you're not on the AIP and want something with a more traditional punch.
Looking for AIP-Friendly Breakfast Recipes?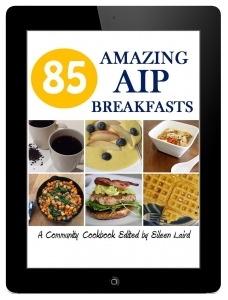 What to eat for breakfast is one of the most common questions I get from people starting the autoimmune protocol. I understand completely: With all my old staples off the table, breakfast was my biggest challenge, too. Well, now there's an easy answer. 85 Amazing AIP Breakfasts is a community e-cookbook featuring dozens of breakfast-friendly autoimmune protocol recipes from some of your favorite bloggers. With coffee substitutes, comforting teas, sausage, waffles, stir-fries, soups, hash, muffins, and porridge, 85 Amazing AIP Breakfasts has just about every one of your breakfast needs covered, sweet and savory alike. Many of the recipes can even be adapted for a low-FODMAP diet! The e-cookbook is available on editor Eileen Laird's website.
Nutrition Facts
Calories:
542
kcal
Carbohydrates:
41
g
Protein:
17
g
Fat:
38
g
Saturated Fat:
32
g
Polyunsaturated Fat:
1
g
Monounsaturated Fat:
2
g
Sodium:
2134
mg
Potassium:
1719
mg
Fiber:
9
g
Sugar:
13
g
Vitamin A:
96
%
Vitamin C:
233
%
Calcium:
14
%
Iron:
27
%
Instructions
Heat the fat in a large pot over medium heat, then add the onion and cook until soft.

Add the mushrooms and saute until tender, about 5 minutes.

Add the broth and milk and bring to a boil.

Reduce the heat to medium, add the broccoli and ginger, and cook another 5 minutes.

Stir in the lemon juice, salt, and cilantro, then serve.