One of the things my husband and I love most about living near Austin is all the wonderful gluten-free Thai food we can find locally. We've got haunts for cheap Thai food, fancy Thai food, not-too-spicy Thai food, and everything in between. Thai Iced Tea is our favorite beverage. Thai basil is our favorite herb. Thai omelets are our favorite breakfast. Tom Kha Gai is our favorite soup. But, you know, there's that little thing called the autoimmune protocol. Which even if I don't follow 100% of the time these days, I still like to stick to more often than not. Finding gluten-free Thai food might be easy, but grain-free, legume-free, nightshade-free, egg-free, seed-free, and nut-free Thai food? Erm. That sounds hard. Which is why I decided to usher in the new year by developing some ultra-tasty homemade AIP-friendly Thai-inspired dishes to keep us on track and maybe even save us some cash in 2017. The result? These Thai Basil Chicken Thighs will blow your mind. Not only are they super easy to make, they freeze well for later, and they are sooooooo good!
And if you don't follow the AIP or have, like me, successfully reintroduced seed products, use sesame oil instead of bacon grease to take these Thai Basil Chicken Thighs to a whole new level. There's really nothing like it in terms of AIP ingredients, but I don't want those of you making the AIP version to think you're missing out. Bacon fat adds a unique flavor of its own and, honestly, elevates everything it touches.
Looking for AIP-Friendly Breakfast Recipes?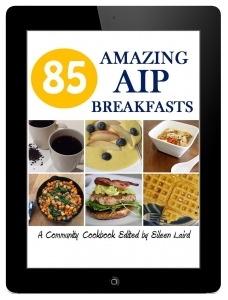 What to eat for breakfast is one of the most common questions I get from people starting the autoimmune protocol. I understand completely: With all my old staples off the table, breakfast was my biggest challenge, too. Well, now there's an easy answer. 85 Amazing AIP Breakfasts is a community e-cookbook featuring dozens of breakfast-friendly autoimmune protocol recipes from some of your favorite bloggers. With coffee substitutes, comforting teas, sausage, waffles, stir-fries, soups, hash, muffins, and porridge, 85 Amazing AIP Breakfasts has just about every one of your breakfast needs covered, sweet and savory alike. Many of the recipes can even be adapted for a low-FODMAP diet! The e-cookbook is available on editor Eileen Laird's website.
Nutrition Facts
Calories:
362
kcal
Carbohydrates:
4
g
Protein:
29
g
Fat:
25
g
Saturated Fat:
9
g
Polyunsaturated Fat:
4
g
Monounsaturated Fat:
9
g
Cholesterol:
108
mg
Sodium:
689
mg
Potassium:
344
mg
Fiber:
1
g
Sugar:
2
g
Vitamin A:
21
%
Vitamin C:
8
%
Calcium:
3
%
Iron:
11
%
Instructions
Heat the coconut oil in a large skillet over medium-high heat. Stir-fry the garlic and ginger for 1 minute.

Add the chicken and stir-fry 5 minutes.

Add the remaining ingredients except basil and simmer, stirring frequently, until the chicken is cooked through, about 10 minutes.

Stir in the basil and serve.