One of my favorite places to grab a Paleo-friendly breakfast around here is Kerbey Lane Cafe. They have the best omelets, many of them with a Southwestern flare. If you don't eat Paleo, feel free to use crumbled corn chips.
Keep Your Health on Track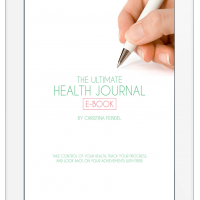 Whether you're starting the autoimmune protocol, a new medication, an exercise routine or trying to get to the bottom of your headaches or indigestion, cataloging your activities and symptoms is a great way to gauge your progress. The Ultimate Health Journal can help you stay on track with diet, fitness, and other lifestyle changes you have begun or been prescribed, notice patterns in your health and lifestyle so you can enact positive changes, and provide a valuable tool for you, your family, and your healthcare team. I would never have noticed that cinnamon makes me sneeze or dairy gives me hiccups without keeping a written record during my elimination diet, which helped me see the patterns that solved my problems! The ebook is available as a digital download with printable template for $6.99.
Nutrition Facts
Calories:
529
kcal
Carbohydrates:
30
g
Protein:
15
g
Fat:
41
g
Saturated Fat:
20
g
Polyunsaturated Fat:
4
g
Monounsaturated Fat:
14
g
Cholesterol:
372
mg
Sodium:
620
mg
Potassium:
991
mg
Fiber:
10
g
Sugar:
14
g
Vitamin A:
42
%
Vitamin C:
41
%
Calcium:
7
%
Iron:
16
%
Instructions
Whisk the eggs with the salt and pepper.

Heat the oil in a skillet over medium and cook the eggs, stirring occasionally, until scrambled (they should look wet but not runny).

Remove the eggs from the heat and stir in the remaining ingredients, then serve.