Who doesn't love Taco Tuesdays? You don't have to say goodbye to that hearty Tex-Mex flavor just because you gave up grains, beans, and nightshades. This Taco Salad with Mexican Cauliflower Rice is quick to throw together and will satisfy the whole family. If you don't have any no-tomato sauce on hand for the rice and don't feel like whipping some up, feel free to leave it out–the rice has plenty of other flavors to offer.
Treat Your Sweet Tooth!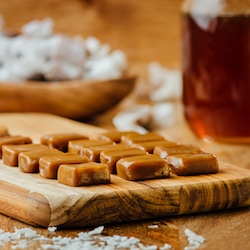 Being on a restricted diet doesn't mean you have to give up every indulgence. Temptation can be rough, and when it strikes, it's nice to have something on hand that's safe to eat. Enter Sweet Apricity. They make creamy, delicious caramels and fluffy marshmallows that just so happen to be 100% autoimmune protocol-friendly. With excellent customer service, high-quality ingredients, a subscribe and save program, and some of the most incredible sweets you'll encounter on the AIP, your sweet tooth doesn't have to go wanting. Plus, they're a great gift for anyone with food sensitivities!
Nutrition Facts
Calories:
630
kcal
Carbohydrates:
27
g
Protein:
35
g
Fat:
44
g
Saturated Fat:
20
g
Polyunsaturated Fat:
3
g
Monounsaturated Fat:
18
g
Cholesterol:
101
mg
Sodium:
1248
mg
Potassium:
1514
mg
Fiber:
12
g
Sugar:
8
g
Vitamin A:
57
%
Vitamin C:
164
%
Calcium:
17
%
Iron:
36
%
Instructions
Taco Salad
Heat the fat in a skillet over medium heat. Add the meat and cook, stirring, until crumbled and just browned on all sides.

Stir in the ginger, salt, pepper, garlic and onion powder, and oregano and mix well. Transfer to a large salad bowl and set aside.

Add the cauliflower rice, lettuce, olives, optional tomatoes or salsa, avocado, and cilantro to the salad bowl. Toss to combine, then serve each salad with a wedge of lime.
Mexican Cauliflower Rice
Heat the fat in a large skillet over medium-high heat. Add the onion and cook for 2 minutes, then add the garlic and cook another minute.

Stir in the cauliflower, salt, pepper, and oregano and cook 2-3 minutes.

Add the no-tomato sauce and cook, stirring, another 2-3 minutes before serving.