Who doesn't love Taco Tuesdays? You don't have to say goodbye to that hearty Tex-Mex flavor just because you gave up grains, beans, and nightshades. This Taco Salad with Mexican Cauliflower Rice is quick to throw together and will satisfy the whole family. If you don't have any no-tomato sauce on hand for the rice and don't feel like whipping some up, feel free to leave it out–the rice has plenty of other flavors to offer.
Looking for AIP-Friendly Breakfast Recipes?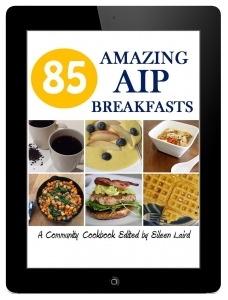 What to eat for breakfast is one of the most common questions I get from people starting the autoimmune protocol. I understand completely: With all my old staples off the table, breakfast was my biggest challenge, too. Well, now there's an easy answer. 85 Amazing AIP Breakfasts is a community e-cookbook featuring dozens of breakfast-friendly autoimmune protocol recipes from some of your favorite bloggers. With coffee substitutes, comforting teas, sausage, waffles, stir-fries, soups, hash, muffins, and porridge, 85 Amazing AIP Breakfasts has just about every one of your breakfast needs covered, sweet and savory alike. Many of the recipes can even be adapted for a low-FODMAP diet! The e-cookbook is available on editor Eileen Laird's website.
Nutrition Facts
Calories:
630
kcal
Carbohydrates:
27
g
Protein:
35
g
Fat:
44
g
Saturated Fat:
20
g
Polyunsaturated Fat:
3
g
Monounsaturated Fat:
18
g
Cholesterol:
101
mg
Sodium:
1248
mg
Potassium:
1514
mg
Fiber:
12
g
Sugar:
8
g
Vitamin A:
2850
IU
Vitamin C:
135.3
mg
Calcium:
170
mg
Iron:
6.5
mg
Instructions
Taco Salad
Heat the fat in a skillet over medium heat. Add the meat and cook, stirring, until crumbled and just browned on all sides.

Stir in the ginger, salt, pepper, garlic and onion powder, and oregano and mix well. Transfer to a large salad bowl and set aside.

Add the cauliflower rice, lettuce, olives, optional tomatoes or salsa, avocado, and cilantro to the salad bowl. Toss to combine, then serve each salad with a wedge of lime.
Mexican Cauliflower Rice
Heat the fat in a large skillet over medium-high heat. Add the onion and cook for 2 minutes, then add the garlic and cook another minute.

Stir in the cauliflower, salt, pepper, and oregano and cook 2-3 minutes.

Add the no-tomato sauce and cook, stirring, another 2-3 minutes before serving.