Taco night was always one of my favorites as a kid (provided I could have a warm, fluffy, soft tortilla instead of one of those crunchy shells that scrape your mouth). Heck, I even loved Taco Bell. There's just something incredibly satisfying about the combination of spiced meat, melted cheese, and sour cream all wrapped up in an easy-to-eat package. None of which are exactly healthy. These Sweet Potato Tacos have been a long time in the making, with some of my earlier iterations using lettuce or jicama wraps. But I always found I'd be hungry again soon after and knew I needed a heartier vehicle to deliver my seasoned meat. Something with a rich flavor to make up for the absence of sour cream. Of course it had to be our old friend the sweet potato! But you can also serve these in squash boats (whether it's hollowed-out zucchini, yellow squash, butternut squash, or on top of spaghetti squash) or fall back on lettuce or jicama wraps in a pinch (especially if you want a really quick meal).
Looking for more easy AIP recipes?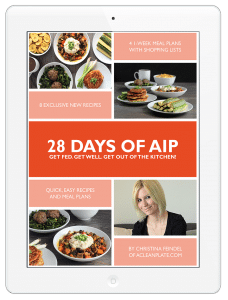 I know diet change can feel overwhelming. I started the autoimmune protocol at a time when only four other people were writing about it, and over the years, I've striven to give you the resources I wish I'd had when I got started. Not just recipes, but ways to implement them. My first ebook 28 Days of AIP is a meal plan that will help you get going (or get back on the wagon) with as little fuss as possible. With a variety of simple, delicious recipes, plenty of leftovers so you don't spend all your free time in the kitchen, and shopping lists ready to go, all you have to do is follow the plan, then sit down and enjoy your meal! It's available as a digital download for $9.99.
Total Time:
1
hour
5
minutes
Nutrition Facts
Calories:
635
kcal
Carbohydrates:
38
g
Protein:
33
g
Fat:
40
g
Saturated Fat:
11
g
Polyunsaturated Fat:
3
g
Monounsaturated Fat:
23
g
Cholesterol:
101
mg
Sodium:
880
mg
Potassium:
1138
mg
Fiber:
9
g
Sugar:
9
g
Vitamin A:
379
%
Vitamin C:
23
%
Calcium:
10
%
Iron:
25
%
Instructions
Preheat the oven to 400 degrees F and line a baking sheet with foil.

Rub the sweet potatoes with the olive oil and 1/4 teaspoon sea salt, then arrange on the baking sheet and bake 45-60 minutes or until tender.

Meanwhile, eat the 1 tablespoon olive oil in a large skillet over medium heat. Cook the onion until translucent, then stir in the garlic and saute for 30 seconds.

Add the beef and cook until there isn't any more pink on the meat. Add the remaining ingredients except avocado and green onions and simmer until the sauce thickens a little, about 5 minutes.

Slice each sweet potato in half and stuff with the taco filling. Serve garnished with avocado and green onion.