Okay, folks. Get ready to treat yourselves. If you've been missing something salty and crunchy to munch on on your gluten-free, grain-free, egg-free, dairy-free, nut-free, and/or autoimmune protocol diet, these Sweet Potato Crackers are the kitchen magic you've been looking for. With just a handful of ingredients and a very hands-off cooking time, making crackers has never been easier. If you can't find store-bought sweet potato puree, you can make your own by baking 2-3 sweet potatoes, peeling them, and pureeing them in your blender. You can also substitute pumpkin puree or use any other type of winter squash (butternut, for example). Feel free to leave out the rosemary, add more salt to taste, or throw in other seasonings like garlic powder or dill for whatever kind of flavor you want your crackers to have. This is a very adaptable recipe!
Keep Your Health on Track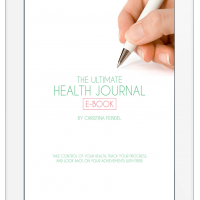 Whether you're starting the autoimmune protocol, a new medication, an exercise routine or trying to get to the bottom of your headaches or indigestion, cataloging your activities and symptoms is a great way to gauge your progress. The Ultimate Health Journal can help you stay on track with diet, fitness, and other lifestyle changes you have begun or been prescribed, notice patterns in your health and lifestyle so you can enact positive changes, and provide a valuable tool for you, your family, and your healthcare team. I would never have noticed that cinnamon makes me sneeze or dairy gives me hiccups without keeping a written record during my elimination diet, which helped me see the patterns that solved my problems! The ebook is available as a digital download with printable template for $6.99.
Total Time:
1
hour
5
minutes
Nutrition Facts
Calories:
365
kcal
Carbohydrates:
21
g
Protein:
2
g
Fat:
30
g
Saturated Fat:
27
g
Polyunsaturated Fat:
1
g
Monounsaturated Fat:
2
g
Sodium:
273
mg
Potassium:
3
mg
Fiber:
3
g
Sugar:
7
g
Vitamin A:
18750
IU
Vitamin C:
20.6
mg
Calcium:
40
mg
Iron:
0.7
mg
Instructions
Preheat the oven to 300 degrees F. Combine all ingredients in a blender and process until smooth, using coconut oil as needed to to reach a spreadable consistency.

Pour the puree onto a parchment-lined baking sheet and spread to about 1/8" thickness, then bake for 20 minutes.

Remove the crackers from the oven and use a butter knife to score them into 1-2" squares depending on how large you want them. Return to the oven for 1 hour, rotating the pan once halfway through. 

If needed, return them to the oven in 15-minute intervals until the sweet potato cooks through and the crackers are crisp. Along the way, remove any crackers that do cook all the way through to avoid burning them.