This is a really old recipe and I'm not sure why it wasn't already up here somewhere. These mildly-flavored chips are quick and easy, but you do have to keep an eye on them to be sure they don't get too crispy (i.e., burn…). You can also make these in a dehydrator if you have one, but it takes way longer!
Keep your household clean, too!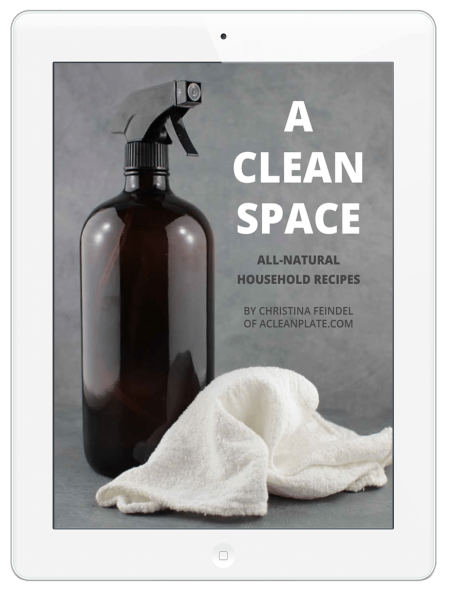 I may make my living as a food blogger, but my health-consciousness actually began long before I started cooking. Growing up with a sensitive nose and skin that would break out into a rash at the slightest provocation, I've been making my own cosmetics and cleaning products since high school. I hoped that avoiding these environmental toxins would not only improve my health, but be better for the environment and save me some money compared to buying high-end non-toxic products at a health-foods store. Whatever your reasons, making your own household products is easier than you might think. My e-book A Clean Space has all the tips, tricks, and recipes you need to get started–and it's only $6.99!
Nutrition Facts
Calories:
114
kcal
Carbohydrates:
15
g
Protein:
1
g
Fat:
6
g
Saturated Fat:
5
g
Polyunsaturated Fat:
0.2
g
Monounsaturated Fat:
0.4
g
Sodium:
38
mg
Potassium:
237
mg
Fiber:
3
g
Sugar:
3
g
Vitamin A:
9300
IU
Vitamin C:
4.1
mg
Calcium:
60
mg
Iron:
2.7
mg
Instructions
Preheat the oven to 400F.

Toss all ingredients in a large bowl until the sweet potatoes are coated.

Bake in a single layer on a large cookie sheet until beginning to brown around the edges, about 10-15 minutes.

Flip the chips over and bake another 5-15 minutes (checking on them every 5) and remove them from the oven when lightly browned.