This is a really old recipe and I'm not sure why it wasn't already up here somewhere. These mildly-flavored chips are quick and easy, but you do have to keep an eye on them to be sure they don't get too crispy (i.e., burn…). You can also make these in a dehydrator if you have one, but it takes way longer!
Struggling with thyroid disease?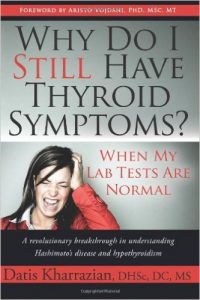 Why Do I Still Have Thyroid Symptoms? by functional medicine practitioner Datis Kharrazian is single-handedly responsible for my improved health over the past few years. It introduced me to the connection between autoimmune disease and lifestyle factors like diet at a time when my doctors were telling me there was nothing wrong with my thyroid even though I had high antibodies. This book gave me the information I needed to get the right tests ordered and seek proper treatment. It's a must-have guide for anyone who has already been diagnosed with thyroid disease, who is at risk due to family history, or who strongly suspects they may have it but isn't sure where to start. I can't recommend it enough!
Nutrition Facts
Calories:
114
kcal
Carbohydrates:
15
g
Protein:
1
g
Fat:
6
g
Saturated Fat:
5
g
Polyunsaturated Fat:
0.2
g
Monounsaturated Fat:
0.4
g
Sodium:
38
mg
Potassium:
237
mg
Fiber:
3
g
Sugar:
3
g
Vitamin A:
9300
IU
Vitamin C:
4.1
mg
Calcium:
60
mg
Iron:
2.7
mg
Instructions
Preheat the oven to 400F.

Toss all ingredients in a large bowl until the sweet potatoes are coated.

Bake in a single layer on a large cookie sheet until beginning to brown around the edges, about 10-15 minutes.

Flip the chips over and bake another 5-15 minutes (checking on them every 5) and remove them from the oven when lightly browned.