This Sweet Potato Bacon Soup is the perfect marriage of savory flavors with a comforting, creamy texture from nutritious sweet potatoes. It's easily my all-time favorite soup, and I don't even like sweet potatoes that much. In fact, it's my go-to for getting something orange into my diet, especially during times of illness when I may not be quite as willing to tolerate flavors I'm not super fond of. (And this soup is certainly healthier than chicken noodle ever was!) Don't be put off by the inclusion of lots of artichoke: They add a wonderful depth of flavor and are jam-packed with antioxidants. The nearest approximation I can think of would be roasted celery or celeriac if you wanted to try those instead, but don't hold me to the results because I've only ever made this soup with the prescribed artichokes. You could use fresh, steamed artichoke hearts if you'd prefer, but you'd need about 3 1/2 pounds of them. If you serve this as a side, you can easily get eight servings out of it instead of four: I think it would pair very nicely with a small salad and some lemony fish or chicken!
Treat Your Sweet Tooth!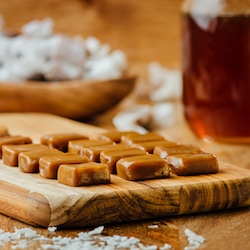 Being on a restricted diet doesn't mean you have to give up every indulgence. Temptation can be rough, and when it strikes, it's nice to have something on hand that's safe to eat. Enter Sweet Apricity. They make creamy, delicious caramels and fluffy marshmallows that just so happen to be 100% autoimmune protocol-friendly. With excellent customer service, high-quality ingredients, a subscribe and save program, and some of the most incredible sweets you'll encounter on the AIP, your sweet tooth doesn't have to go wanting. Plus, they're a great gift for anyone with food sensitivities!
Nutrition Facts
Calories:
321
kcal
Carbohydrates:
49
g
Protein:
16
g
Fat:
7
g
Saturated Fat:
2
g
Polyunsaturated Fat:
1
g
Monounsaturated Fat:
3
g
Cholesterol:
18
mg
Sodium:
2947
mg
Potassium:
630
mg
Fiber:
8
g
Sugar:
9
g
Vitamin A:
376
%
Vitamin C:
29
%
Calcium:
12
%
Iron:
26
%
Instructions
Combine the sweet potato and broth in a large stockpot and bring to a boil.

Reduce the heat and simmer for 25 minutes or until the potatoes are fork-tender.

Transfer the potatoes and broth to a blender with the bacon (reserving a little bit for garnish if you like), artichoke, garlic, salt, and ginger.

Process until smooth. If needed, return to the stove to heat through. Pour into serving bowls and serve garnished with green onion.