This recipe is based on an old favorite I used to make in my pre-Paleo days, which involved baking a mixture of pineapple, walnuts, coconut shreds and rum into hollowed-out pineapple halves. I despaired of ever coming up with an autoimmune protocol-friendly version of that recipe…until I decided to also stuff it with everyone's other favorite tropical fruit, banana! Bananas have a wonderful flavor when baked, which, combined with toasty coconut and a hint of cinnamon, complement pineapple perfectly. Enjoy!
Looking for AIP-Friendly Breakfast Recipes?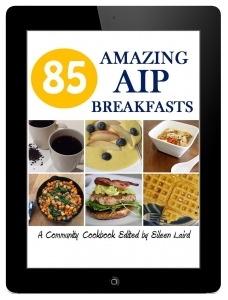 What to eat for breakfast is one of the most common questions I get from people starting the autoimmune protocol. I understand completely: With all my old staples off the table, breakfast was my biggest challenge, too. Well, now there's an easy answer. 85 Amazing AIP Breakfasts is a community e-cookbook featuring dozens of breakfast-friendly autoimmune protocol recipes from some of your favorite bloggers. With coffee substitutes, comforting teas, sausage, waffles, stir-fries, soups, hash, muffins, and porridge, 85 Amazing AIP Breakfasts has just about every one of your breakfast needs covered, sweet and savory alike. Many of the recipes can even be adapted for a low-FODMAP diet! The e-cookbook is available on editor Eileen Laird's website.
Nutrition Facts
Calories:
167
kcal
Carbohydrates:
15
g
Protein:
2
g
Fat:
13
g
Saturated Fat:
11
g
Polyunsaturated Fat:
0.04
g
Monounsaturated Fat:
0.01
g
Sodium:
9
mg
Potassium:
121
mg
Fiber:
3
g
Sugar:
8
g
Vitamin A:
1
%
Vitamin C:
38
%
Calcium:
1
%
Iron:
3
%
Instructions
Preheat the oven to 325 degrees F.

With a melon baller, core the pineapple halves and then scoop the flesh out of the skin to make boats. Discard the core, then divide the edible flesh evenly between the two pineapple halves.

Top with one of the sliced bananas and toss to combine with the pineapple. Lay the pineapple boats, cut side up, on a baking sheet.

Puree the remaining banana with the coconut milk and cinnamon in a blender, then pour into the pineapples, dividing equally. Sprinkle the shredded coconut on top.

Bake for 20-25 minutes or until golden brown on top.