This recipe is based on an old favorite I used to make in my pre-Paleo days, which involved baking a mixture of pineapple, walnuts, coconut shreds and rum into hollowed-out pineapple halves. I despaired of ever coming up with an autoimmune protocol-friendly version of that recipe…until I decided to also stuff it with everyone's other favorite tropical fruit, banana! Bananas have a wonderful flavor when baked, which, combined with toasty coconut and a hint of cinnamon, complement pineapple perfectly. Enjoy!
Don't Feel Like Cooking?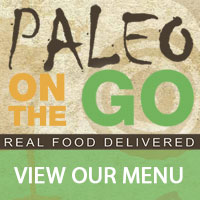 That's okay! Everyone needs a break sometimes, especially during busy times like the holidays or when you're sick or stressed out. When I find myself unwilling or unable to prepare healthy meals myself, I turn to Paleo on the Go. Yes, they have autoimmune protocol-friendly options! With tons of nutritious, delicious, pre-packaged meals, Paleo on the Go's ready-to-go, frozen courses are perfect for those days you just don't want to be in the kitchen. They even offer an appreciable selection of AIP-friendly treats, including toaster pastries!
Nutrition Facts
Calories:
167
kcal
Carbohydrates:
15
g
Protein:
2
g
Fat:
13
g
Saturated Fat:
11
g
Polyunsaturated Fat:
0.04
g
Monounsaturated Fat:
0.01
g
Sodium:
9
mg
Potassium:
121
mg
Fiber:
3
g
Sugar:
8
g
Vitamin A:
1
%
Vitamin C:
38
%
Calcium:
1
%
Iron:
3
%
Instructions
Preheat the oven to 325 degrees F.

With a melon baller, core the pineapple halves and then scoop the flesh out of the skin to make boats. Discard the core, then divide the edible flesh evenly between the two pineapple halves.

Top with one of the sliced bananas and toss to combine with the pineapple. Lay the pineapple boats, cut side up, on a baking sheet.

Puree the remaining banana with the coconut milk and cinnamon in a blender, then pour into the pineapples, dividing equally. Sprinkle the shredded coconut on top.

Bake for 20-25 minutes or until golden brown on top.