Y'all know how much I love the combination of strawberry and basil. With a handful of fresh basil coming from my garden every single day, I was using it on salads and of course making plenty of pesto and drying some for later. But there are only so many days a year you can do that! I needed new basil recipes, stat. This Strawberry Basil Jam came to the rescue, offering up a delicious snack, ice cream topping, or even salad dressing. Feel free to mince or even puree the strawberries for a finer texture!
Keep Your Health on Track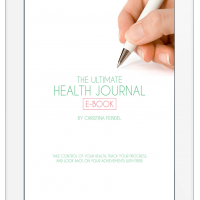 Whether you're starting the autoimmune protocol, a new medication, an exercise routine or trying to get to the bottom of your headaches or indigestion, cataloging your activities and symptoms is a great way to gauge your progress. The Ultimate Health Journal can help you stay on track with diet, fitness, and other lifestyle changes you have begun or been prescribed, notice patterns in your health and lifestyle so you can enact positive changes, and provide a valuable tool for you, your family, and your healthcare team. I would never have noticed that cinnamon makes me sneeze or dairy gives me hiccups without keeping a written record during my elimination diet, which helped me see the patterns that solved my problems! The ebook is available as a digital download with printable template for $6.99.
Ingredients
Instructions
Combine the strawberries and honey in a saucepan over medium heat. Bring to a simmer, then reduce the heat to medium-low.

Cook, stirring occasionally, for about 20 minutes or until the strawberries are mushy.

While stirring, sprinkle in the gelatin. Continue stirring until dissolved, then remove from heat and allow to cool to room temperature before stirring in the basil and transferring to the fridge for storage.