Y'all know how much I love the combination of strawberry and basil. With a handful of fresh basil coming from my garden every single day, I was using it on salads and of course making plenty of pesto and drying some for later. But there are only so many days a year you can do that! I needed new basil recipes, stat. This Strawberry Basil Jam came to the rescue, offering up a delicious snack, ice cream topping, or even salad dressing. Feel free to mince or even puree the strawberries for a finer texture!
Looking for Low-Histamine Recipes?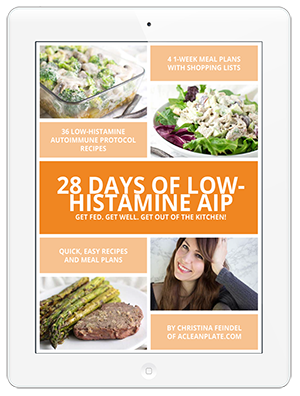 A low-histamine diet can be immensely helpful for MAST cell disorders or people with excess histamine production, but it's an extremely tricky diet to manage. My e-book 28 Days of Low-Histamine AIP combines low-histamine foods with the anti-inflammatory autoimmune protocol diet in a 28-day meal plan designed to jump start and simplify your diet change. The meal plan includes 36 simple, satisfying low-histamine recipes including a variety of dishes like Chicken Schawarma, Cabbage Roll Stir-Fry, and Chimichurri Steaks. You'll be amazed at all the flavors still available to you! The ebook is available as a digital download for $9.99.
Ingredients
Instructions
Combine the strawberries and honey in a saucepan over medium heat. Bring to a simmer, then reduce the heat to medium-low.

Cook, stirring occasionally, for about 20 minutes or until the strawberries are mushy.

While stirring, sprinkle in the gelatin. Continue stirring until dissolved, then remove from heat and allow to cool to room temperature before stirring in the basil and transferring to the fridge for storage.