Are you avoiding nightshades or trying to cut carbs? In my household, it's a bit of both–I don't do well with nightshades and he needs to stop eating so many nutrient-poor starches for the sake of his stubborn waistline. We both had a hard time giving up potatoes… fries, chips, mashed, baked, they're so tasty so many ways. It is always easier to avoid foods you know are bad for you when you have a decent alternative you can easily incorporate into the same meals. After conquering sweet potato fries and mashed plantain, I decided to try my hand at Squashbrowns. The versatile spaghetti squash is a great substitute for white potatoes in this breakfast and brunch favorite! With more nutrients, less carbs, and none of the inflammatory properties of nightshades, it's a healthy choice the whole family can be proud of. Serve these little crispy bits anywhere you'd normally serve hashbrowns (or even places you wouldn't).
Keep it Simple with Freezer Cooking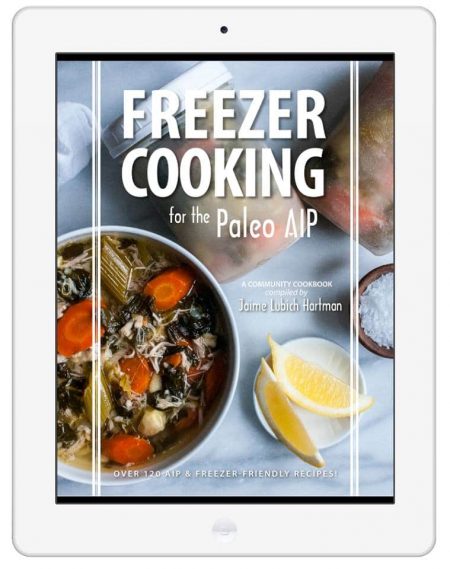 Preparing meals ahead of time and keeping them on hand in the freezer is one of the best ways to make any diet change sustainable. You'll wind up spending less time in the kitchen most days and will always have something ready to go when hunger or cravings strike. With Freezer Cooking for the Paleo AIP, you'll get 123 tried-and-true recipes from 30 of your favorite autoimmune protocol bloggers to help you out. Designed for batch cooking and advance prep, each recipe includes instructions for storing, freezing, and reheating it. There are recipes for every meal of the day and recipes for special occasions, too! The ebook is now available as a digital download for $18.90.
Total Time:
1
hour
20
minutes
Nutrition Facts
Calories:
231
kcal
Carbohydrates:
8
g
Protein:
1
g
Fat:
22
g
Saturated Fat:
18
g
Polyunsaturated Fat:
2
g
Monounsaturated Fat:
3
g
Sodium:
381
mg
Potassium:
145
mg
Fiber:
2
g
Sugar:
3
g
Vitamin A:
250
IU
Vitamin C:
5.8
mg
Calcium:
30
mg
Iron:
0.4
mg
Instructions
Preheat the oven to 375 degrees F.

Brush each half of the squash with a tablespoon of oil and sprinkle with salt.

Bake for 40 minutes or until the squash easily pulls apart into spaghetti-like strands when scraped with a fork.

Allow the squash to cool, then shred it into strings and place the strings inside a paper towel-lined colander. Squeeze the squash thoroughly, getting out as much moisture as you can.

To dry the squash further, preheat the oven to 200 degrees F. Arrange the squash on a parchment-lined baking sheet, spreading as thin as possible, and bake for 1 1/2-2 hours, until just barely damp.

Heat the 1/2 cup oil in a skillet over medium-high heat. Add a handful of spaghetti strings into the pan, frying until golden brown, stirring occasionally, about 10 minutes.

Remove from the skillet and drain on a paper towel. Repeat for all of the remaining squash.