You can use hake, halibut, cod, tilapia, or any kind of whitefish you like for this recipe. Cod is my personal favorite. Be warned that when I say "spicy", I mean spicy. This recipe packs a lot of flavor! You may want to cut all of the spices in half if you want something subtler.
Keep Your Health on Track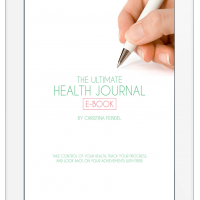 Whether you're starting the autoimmune protocol, a new medication, an exercise routine or trying to get to the bottom of your headaches or indigestion, cataloging your activities and symptoms is a great way to gauge your progress. The Ultimate Health Journal can help you stay on track with diet, fitness, and other lifestyle changes you have begun or been prescribed, notice patterns in your health and lifestyle so you can enact positive changes, and provide a valuable tool for you, your family, and your healthcare team. I would never have noticed that cinnamon makes me sneeze or dairy gives me hiccups without keeping a written record during my elimination diet, which helped me see the patterns that solved my problems! The ebook is available as a digital download with printable template for $6.99.
Nutrition Facts
Calories:
220
kcal
Carbohydrates:
5
g
Protein:
22
g
Fat:
12
g
Saturated Fat:
6
g
Polyunsaturated Fat:
3
g
Monounsaturated Fat:
3
g
Cholesterol:
68
mg
Sodium:
540
mg
Potassium:
435
mg
Fiber:
1
g
Sugar:
1
g
Vitamin A:
3
%
Vitamin C:
14
%
Calcium:
5
%
Iron:
8
%
Instructions
Combine all ingredients except the fish and lemon slices, making a paste.

Coat the fish evenly on both sides, then place on a lighty-oiled baking sheet.

Broil for 7-9 minutes or until the fish flakes easily when scratched with a fork. Serve each filet garnished with a lemon wedge.