Nightshades give me belly aches and don't do any favors for my arthritis, either. So this Spaghetti with No-Tomato Sauce has become my go-to substitute for tomato paste, puree, and sauce. Not only does the sauce work well in soups, stir-fries, and curries, but it makes for a fantastic autoimmune protocol-friendly spaghetti. It smells just like real marinara sauce and has a rich, beautiful color thanks to the beets. Since its inception this recipe has become a staple, with portions of sauce stored in the freezer for easy access any time I need it. (It keeps for about three months in my experience.) If you feel the sauce is too thick, add vegetable broth to taste while blending.  I like to make it with multicolored carrots for a somewhat darker, more reddish hue, but the flavor will turn out just as well with orange carrots if that's all you can find. And the color varies every time I make it, so don't be concerned if yours doesn't look quite the same.
All-natural, organic makeup and skin care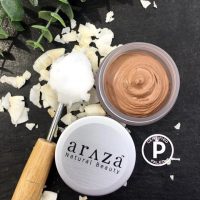 Araza Natural Beauty, founded by two sisters with Celiac disease, is the first Paleo-certified beauty company to offer a full range of products for skin, eyes, cheeks, and lips–all of which are additive, dairy, and gluten free. In all my years of experimenting with natural makeup, this has become my favorite, fool-proof brand for everyday looks!
Total Time:
1
hour
10
minutes
Nutrition Facts
Calories:
587
kcal
Carbohydrates:
45
g
Protein:
41
g
Fat:
29
g
Saturated Fat:
10
g
Polyunsaturated Fat:
3
g
Monounsaturated Fat:
13
g
Cholesterol:
101
mg
Sodium:
1436
mg
Potassium:
2925
mg
Fiber:
14
g
Sugar:
17
g
Vitamin A:
476
%
Vitamin C:
183
%
Calcium:
42
%
Iron:
77
%
Instructions
Spaghetti
Brown the meat with oregano, parsley, basil, ginger, and salt in a large skillet over medium heat.

Add the no-tomato sauce and bring to a boil. Reduce the heat and simmer for 1 hour, stirring occasionally.

Stir in the spinach and cook until its reduced, then serve over the spaghetti squash.
No-Tomato Sauce
Combine all ingredients in a slow cooker and cook on low for 7 hours.

Remove the bay leaves. Puree in a blender until smooth, then season to taste.