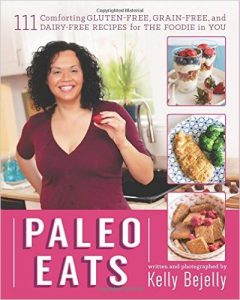 Kelly Bejelly is every bit as kind and warm as her down-to-earth, comfort-foods cooking style would suggest. She just radiates friendliness. Her cookbook, Paleo Eats, does too! With practical tips, a fun and inviting design, and a huge collection of accessible recipes, Paleo Eats is like cooking with a best friend. It will guide you if you're new to Paleo and challenge you to try new recipes if you aren't. For beginners, the cookbook features a short-and-sweet primer on Paleo including what to eat, what to avoid, how to stock your pantry, and kitchen tools. The appendices contain guides to substituting non-Paleo ingredients for Paleo ones (so you can Paleofy some of your favorite non-Paleo recipes!), resources for more information and recipes or where to find ingredients, a glossary of cooking terms, and a photographic recipe index so you can see at a glance what the book has to offer: 111 delicious recipes, like this Southern Fried Chicken!
The recipes are a delightful blend of southern comfort foods and exotic international fare, offering grits, onion rings, hush puppies, apple pie ice cream, and fried chicken (see below!) as well as hummus, gyro burgers, pancit, and pho ga. There's also a huge variety of "basics" like ketchup, mayonnaise, teriyaki sauce, broth, gravy, and barbecue sauce, making this cookbook a wonderful one-stop-shop for condiments or components of all kinds. Kelly also includes an appendix noting which recipes are perfect for special occasions (such as Thanksgiving or Valentine's Day) and which recipes adhere to the autoimmune protocol (although only a handful of recipes are AIP as-written, many can be adapted). Kelly's warm, inviting full-page photos infuse the book with coziness and comfort, just like home cooking should feel. This crispy Southern Fried Chicken is the perfect example.
Paleo Eats is the perfect compilation of healthy comfort foods, whether Southern classics or your favorite ethnic dishes. It is a friendly and well-rounded guide to making Paleo accessible for beginners and home cooks who just want food like mom or grandma used to make. At the same time, in the huge variety of recipes there are dishes you won't see anywhere else if you already have a sizable collection of Paleo cookbooks. It is a refreshing resource and the perfect gift for any home cook aspiring to eat healthier!
Nutrition Facts
Calories:
1475
kcal
Carbohydrates:
40
g
Protein:
34
g
Fat:
127
g
Saturated Fat:
112
g
Polyunsaturated Fat:
6
g
Monounsaturated Fat:
12
g
Cholesterol:
96
mg
Sodium:
1403
mg
Potassium:
374
mg
Fiber:
1
g
Sugar:
1
g
Vitamin A:
550
IU
Vitamin C:
6.6
mg
Calcium:
10
mg
Iron:
2.9
mg
Instructions
In a large bowl, combine the ingredients for the marinade. Add the chicken pieces to the bowl and toss to evenly coat with the marinade. Place in the refrigerator for 3 to 4 hours.

Remove the chicken from the refrigerator and let sit for 10 to 15 minutes.

In a large cast-iron skillet over medium-high heat, heat the bacon fat to 325 degrees. Try to keep the oil no higher than 325 degrees.

Make the coating: Place the tapioca flour, salt, and pepper in a large paper sack and shake to combine. Drop the pieces of chicken into the bag and shake to coat the chicken on all sides.

Place the chicken in the hot oil and cook until golden brown on both sides, roughly 10 to 15 minutes per side, and the internal temperature reaches 160 degrees. Remove and set on a rack over a rimmed sheet pan. Note: If the chicken is golden brown on the outside but is not yet fully cooked on the inside, set it on a rack over a rimmed baking sheet and place it in the oven at 350 degrees to finish cooking, roughly 8 to 10 minutes.