This smoked salmon omelet, which is an invention of my fiancee's, is one of my all-time favorite breakfasts! He likes to serve his with a dollop of sour cream or cream cheese, while I like to add sliced avocado. Either way, yum!
Struggling with thyroid disease?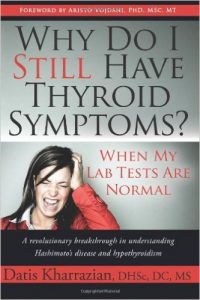 Why Do I Still Have Thyroid Symptoms? by functional medicine practitioner Datis Kharrazian is single-handedly responsible for my improved health over the past few years. It introduced me to the connection between autoimmune disease and lifestyle factors like diet at a time when my doctors were telling me there was nothing wrong with my thyroid even though I had high antibodies. This book gave me the information I needed to get the right tests ordered and seek proper treatment. It's a must-have guide for anyone who has already been diagnosed with thyroid disease, who is at risk due to family history, or who strongly suspects they may have it but isn't sure where to start. I can't recommend it enough!
Nutrition Facts
Calories:
314
kcal
Carbohydrates:
4
g
Protein:
17
g
Fat:
25
g
Saturated Fat:
17
g
Polyunsaturated Fat:
2
g
Monounsaturated Fat:
5
g
Cholesterol:
379
mg
Sodium:
493
mg
Potassium:
215
mg
Fiber:
1
g
Sugar:
2
g
Vitamin A:
8
%
Vitamin C:
6
%
Calcium:
5
%
Iron:
10
%
Instructions
Heat the oil in a skillet over medium heat.

Pour in the eggs and red onion and cook until mostly solid, about 5 minutes.

Flip and cook another 3 minutes or until cooked through.

Lay the salmon and capers on top and serve with a drizzle of lemon juice.