My husband loves shrimp. He's Cajun, so that isn't really a surprise. He keeps bugging me to make crawfish, too. Shellfish and I have something of a torrid past, as one of my earliest memories is getting violently ill at a seafood restaurant. I still have a hard time finding the smell of cooking shrimp appetizing, but I am slowly coming around to the flavor. It's important to keep an open mind, you know? And this Shrimp Scampi makes it easy.
In fact, it's my favorite shrimp recipe to date, which is kind of amazing considering how few ingredients are involved and how easy it is to prepare. The recipe is written to be AIP-compliant, but if you aren't following the autoimmune protocol, feel free to use ghee or butter instead of olive oil, add a pinch of red pepper flakes, and sub white wine for the broth. And I've got some good news for you low-FODMAP folks, too:
For Low-FODMAP Shrimp Scampi
You can buy garlic-infused oil or make your own by placing some roughly-chopped garlic cloves in olive oil for 24 hours. Just make sure you strain the oil thoroughly so there aren't any garlic pieces left in it!
Don't Feel Like Cooking?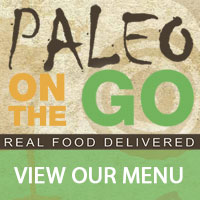 That's okay! Everyone needs a break sometimes, especially during busy times like the holidays or when you're sick or stressed out. When I find myself unwilling or unable to prepare healthy meals myself, I turn to Paleo on the Go. Yes, they have autoimmune protocol-friendly options! With tons of nutritious, delicious, pre-packaged meals, Paleo on the Go's ready-to-go, frozen courses are perfect for those days you just don't want to be in the kitchen. They even offer an appreciable selection of AIP-friendly treats, including toaster pastries!
Nutrition Facts
Calories:
430
kcal
Carbohydrates:
3
g
Protein:
32
g
Fat:
32
g
Saturated Fat:
5
g
Polyunsaturated Fat:
4
g
Monounsaturated Fat:
22
g
Cholesterol:
235
mg
Sodium:
764
mg
Potassium:
238
mg
Fiber:
0.2
g
Sugar:
0.2
g
Vitamin A:
500
IU
Vitamin C:
14
mg
Calcium:
90
mg
Iron:
4
mg
Instructions
Cook the garlic in the olive oil over medium heat, stirring occasionally, for five minutes.

Raise the heat to medium-high and add the shrimp. Cook, stirring, another five minutes, until the shrimp is done.

Add the broth and cook another minute, then add the lemon juice and stir well.

Garnish with the parsley to serve.