My husband loves shrimp. He's Cajun, so that isn't really a surprise. He keeps bugging me to make crawfish, too. Shellfish and I have something of a torrid past, as one of my earliest memories is getting violently ill at a seafood restaurant. I still have a hard time finding the smell of cooking shrimp appetizing, but I am slowly coming around to the flavor. It's important to keep an open mind, you know? And this Shrimp Scampi makes it easy.
In fact, it's my favorite shrimp recipe to date, which is kind of amazing considering how few ingredients are involved and how easy it is to prepare. The recipe is written to be AIP-compliant, but if you aren't following the autoimmune protocol, feel free to use ghee or butter instead of olive oil, add a pinch of red pepper flakes, and sub white wine for the broth. And I've got some good news for you low-FODMAP folks, too:
For Low-FODMAP Shrimp Scampi
You can buy garlic-infused oil or make your own by placing some roughly-chopped garlic cloves in olive oil for 24 hours. Just make sure you strain the oil thoroughly so there aren't any garlic pieces left in it!
Looking for Low-FODMAP Recipes?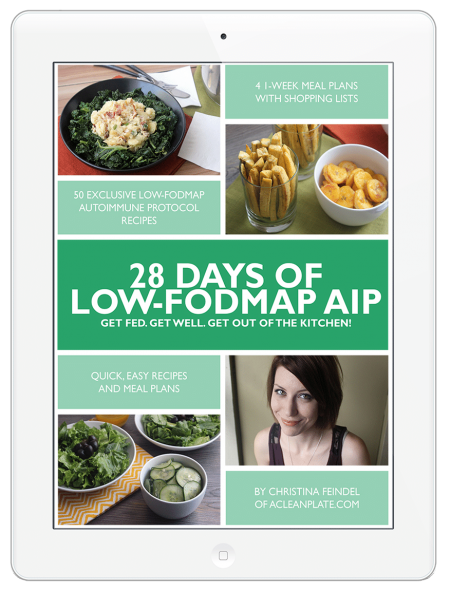 The low-FODMAP diet is often prescribed for people with IBS or Small Intestinal Bacterial Overgrowth (SIBO), and there's a huge overlap of that demographic with people with autoimmune disease. My e-book 28 Days of Low-FODMAP AIP combines both IBS- and autoimmune-friendly diets in a 28-day meal plan designed to jump start and simplify this often-challenging diet change. Just you wait: The meal plan includes 50 exclusive low-FODMAP recipes you won't find on my website or anywhere else, with dishes like Chicken Vindalo, Jambalaya, and crispy, crunchy Tostones. You'll be amazed at the variety of flavors still available to you! The ebook is available as a digital download for $9.99.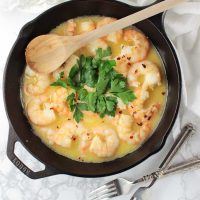 Print Recipe
Shrimp Scampi
Ingredients
1/2

cup

extra virgin olive oil

4

cloves

garlic

minced

1

pound

shrimp

peeled

1/3

cup

chicken broth

1

tablespoon

lemon juice

1/4

cup

parsley

chopped
Instructions
Cook the garlic in the olive oil over medium heat, stirring occasionally, for five minutes.

Raise the heat to medium-high and add the shrimp. Cook, stirring, another five minutes, until the shrimp is done.

Add the broth and cook another minute, then add the lemon juice and stir well.

Garnish with the parsley to serve.