Scallops are a fairly recent addition to my diet, as the often-hefty price tag has put me off in the past. But after snatching some up during a recent sale, I am now more than happy to grab them any time for a special occasion because they're so delicious! I had no idea what I was missing out on. There's no other seafood like them, and if you (like me) aren't a fan of the taste of fish, this is the omega-3-packed entree for you. They have a very mild flavor, almost like chicken, and are deliciously moist when cooked right. These Seasoned Scallops, broiled in bacon fat, use the bare minimum of herbs and spices so the scallops can speak for themselves–and the whole dish is ready in about 20 minutes. Only shrimp and mussels take less time to cook, and you don't even have to peel or shell these!
If you prefer, you can also cook these on the grill following the same general instructions. The bacon fat can be substituted with any other cooking fat, but butter works best flavor-wise if you can tolerate it. You can also wrap them with bacon instead of coating them in fat if you've got some extra bacon to use up!
Looking for more easy AIP recipes?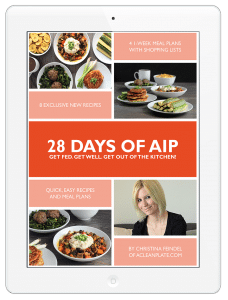 I know diet change can feel overwhelming. I started the autoimmune protocol at a time when only four other people were writing about it, and over the years, I've striven to give you the resources I wish I'd had when I got started. Not just recipes, but ways to implement them. My first ebook 28 Days of AIP is a meal plan that will help you get going (or get back on the wagon) with as little fuss as possible. With a variety of simple, delicious recipes, plenty of leftovers so you don't spend all your free time in the kitchen, and shopping lists ready to go, all you have to do is follow the plan, then sit down and enjoy your meal! It's available as a digital download for $9.99.
Ingredients
10

whole

scallops

2

tablespoons

bacon fat

(melted)

1/8

teaspoon

garlic powder

(omit for low-FODMAP)

1/8

teaspoon

onion powder

(omit for low-FODMAP)

1

tablespoon

parsley

(chopped)
Equipment
Nutrition Facts
Calories:
379
kcal
Carbohydrates:
15
g
Protein:
26
g
Fat:
23
g
Saturated Fat:
6
g
Polyunsaturated Fat:
6
g
Monounsaturated Fat:
9
g
Cholesterol:
82
mg
Sodium:
694
mg
Potassium:
505
mg
Fiber:
1
g
Sugar:
1
g
Vitamin A:
6
%
Vitamin C:
13
%
Calcium:
6
%
Iron:
6
%
Instructions
Preheat the oven to broil.

Combine the scallops with the fat, garlic, onion, and paprika and coat well.

Arrange in a single layer in a large baking dish and broil for 10 minutes, until golden-brown on top.

Flip and then broil another 4 minutes, until golden-brown on both sides. Garnish with parsley to serve.