Scallops are a fairly recent addition to my diet, as the often-hefty price tag has put me off in the past. But after snatching some up during a recent sale, I am now more than happy to grab them any time for a special occasion because they're so delicious! I had no idea what I was missing out on. There's no other seafood like them, and if you (like me) aren't a fan of the taste of fish, this is the omega-3-packed entree for you. They have a very mild flavor, almost like chicken, and are deliciously moist when cooked right. These Seasoned Scallops, broiled in bacon fat, use the bare minimum of herbs and spices so the scallops can speak for themselves–and the whole dish is ready in about 20 minutes. Only shrimp and mussels take less time to cook, and you don't even have to peel or shell these!
If you prefer, you can also cook these on the grill following the same general instructions. The bacon fat can be substituted with any other cooking fat, but butter works best flavor-wise if you can tolerate it. You can also wrap them with bacon instead of coating them in fat if you've got some extra bacon to use up!
Struggling with thyroid disease?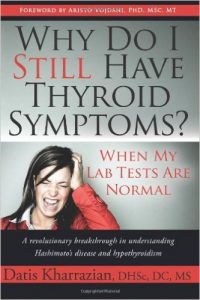 Why Do I Still Have Thyroid Symptoms? by functional medicine practitioner Datis Kharrazian is single-handedly responsible for my improved health over the past few years. It introduced me to the connection between autoimmune disease and lifestyle factors like diet at a time when my doctors were telling me there was nothing wrong with my thyroid even though I had high antibodies. This book gave me the information I needed to get the right tests ordered and seek proper treatment. It's a must-have guide for anyone who has already been diagnosed with thyroid disease, who is at risk due to family history, or who strongly suspects they may have it but isn't sure where to start. I can't recommend it enough!
Ingredients
10

whole

scallops

2

tablespoons

bacon fat

(melted)

1/8

teaspoon

garlic powder

(omit for low-FODMAP)

1/8

teaspoon

onion powder

(omit for low-FODMAP)

1

tablespoon

parsley

(chopped)
Equipment
Nutrition Facts
Calories:
379
kcal
Carbohydrates:
15
g
Protein:
26
g
Fat:
23
g
Saturated Fat:
6
g
Polyunsaturated Fat:
6
g
Monounsaturated Fat:
9
g
Cholesterol:
82
mg
Sodium:
694
mg
Potassium:
505
mg
Fiber:
1
g
Sugar:
1
g
Vitamin A:
300
IU
Vitamin C:
10.7
mg
Calcium:
60
mg
Iron:
1.1
mg
Instructions
Preheat the oven to broil.

Combine the scallops with the fat, garlic, onion, and paprika and coat well.

Arrange in a single layer in a large baking dish and broil for 10 minutes, until golden-brown on top.

Flip and then broil another 4 minutes, until golden-brown on both sides. Garnish with parsley to serve.