This simple, flavorful recipe originates from China, where it would more traditionally be made with Chinese yellow chives. Unfortunately, I don't have access to those in rural Texas, but the recipe is every bit as delicious with garden-variety green onions! These Scrambled Eggs with Cauliflower Rice have become one of our favorite breakfasts. Using leftover rice (or actual rice, if you tolerate it well), it comes together in less than 15 minutes and is both a hearty and satisfying way to start the day. As long as you like chives, of course!
Keep Your Health on Track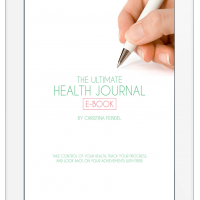 Whether you're starting the autoimmune protocol, a new medication, an exercise routine or trying to get to the bottom of your headaches or indigestion, cataloging your activities and symptoms is a great way to gauge your progress.
The Ultimate Health Journal
can help you stay on track with diet, fitness, and other lifestyle changes you have begun or been prescribed, notice patterns in your health and lifestyle so you can enact positive changes, and provide a valuable tool for you, your family, and your healthcare team. I would never have noticed that cinnamon makes me sneeze or dairy gives me hiccups without keeping a written record during my elimination diet, which helped me see the patterns that solved my problems! The ebook is available as a digital download with printable template for 
$6.99
.
Instructions
Heat half the oil in a skillet or wok over medium-high heat, then add the eggs and cook until set on the bottom before stirring and chopping into smaller pieces.

When the eggs are set but still slightly moist, remove them from the pan.

Add the remaining oil to the pan and stir-fry the chives until tender, 1-2 minutes. Return the eggs to the pan and season with salt.

Serve over cauliflower rice.