In the winter months, there's nothing I love more than a one-dish meal. Something you throw together, preferably from pre-prepared ingredients, stick in the oven or slow-cooker, and walk away from for a bit. In my case, to curl up under a blanket. I just don't have the stamina to stand by the stove and juggle a bunch of different sides when it's so cold! Fortunately, this Sausage Spaghetti Squash Casserole packs all the veggies and comforting flavors I need to stay healthy.
Budget-Friendly AIP Cookbook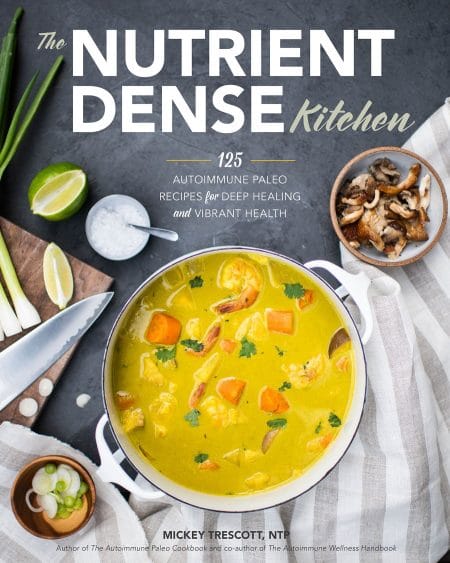 The Nutrient Dense Kitchen
is a beautiful, simple cookbook all about helping you understand which ingredients will give you the most nutritional bang for your buck, and showing you how to incorporate them into your diet in efficient, budget-friendly, and delicious ways. With 125 AIP recipes and 5 meal plans, it's a cookbook you're guaranteed to cherish. 
Now available on Amazon.
Nutrition Facts
Calories:
847
kcal
Carbohydrates:
45
g
Protein:
31
g
Fat:
63
g
Saturated Fat:
34
g
Polyunsaturated Fat:
6
g
Monounsaturated Fat:
17
g
Cholesterol:
65
mg
Sodium:
2446
mg
Potassium:
1304
mg
Fiber:
8
g
Sugar:
12
g
Vitamin A:
30
%
Vitamin C:
245
%
Calcium:
17
%
Iron:
24
%
Instructions
Preheat the oven to 425 degrees F.

In a saucepan over medium heat, heat the coconut oil. Add the mushrooms and cook until tender, about 3 minutes.

Stir in the arrowroot and garlic until fragrant, about 1 minute.

Add the coconut milk and stir constantly until thickened, about 5 minutes. Season with salt and pepper.

In a casserole dish, toss the squash with the broccoli, sausage, and sauce. Bake 15 minutes, then serve.