In the winter months, there's nothing I love more than a one-dish meal. Something you throw together, preferably from pre-prepared ingredients, stick in the oven or slow-cooker, and walk away from for a bit. In my case, to curl up under a blanket. I just don't have the stamina to stand by the stove and juggle a bunch of different sides when it's so cold! Fortunately, this Sausage Spaghetti Squash Casserole packs all the veggies and comforting flavors I need to stay healthy.
Looking for Low-Histamine Recipes?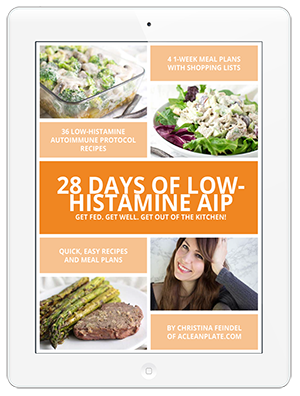 A low-histamine diet can be immensely helpful for MAST cell disorders or people with excess histamine production, but it's an extremely tricky diet to manage. My e-book
28 Days of Low-Histamine AIP
combines low-histamine foods with the anti-inflammatory autoimmune protocol diet in a 28-day meal plan designed to jump start and simplify your diet change. The meal plan includes 36 simple, satisfying low-histamine recipes including a variety of dishes like Chicken Schawarma, Cabbage Roll Stir-Fry, and Chimichurri Steaks. You'll be amazed at all the flavors still available to you! The ebook is available as a digital download for
$9.99
.
Nutrition Facts
Calories:
847
kcal
Carbohydrates:
45
g
Protein:
31
g
Fat:
63
g
Saturated Fat:
34
g
Polyunsaturated Fat:
6
g
Monounsaturated Fat:
17
g
Cholesterol:
65
mg
Sodium:
2446
mg
Potassium:
1304
mg
Fiber:
8
g
Sugar:
12
g
Vitamin A:
1500
IU
Vitamin C:
202.1
mg
Calcium:
170
mg
Iron:
4.3
mg
Instructions
Preheat the oven to 425 degrees F.

In a saucepan over medium heat, heat the coconut oil. Add the mushrooms and cook until tender, about 3 minutes.

Stir in the arrowroot and garlic until fragrant, about 1 minute.

Add the coconut milk and stir constantly until thickened, about 5 minutes. Season with salt and pepper.

In a casserole dish, toss the squash with the broccoli, sausage, and sauce. Bake 15 minutes, then serve.