Sauerkraut is one of the easiest fermented foods to make. You seriously mix it all together (okay, so that takes a little bit of elbow grease) and then forget about it for two weeks. Easy, right? You can also add a whole host of things to change up the flavor, like chopped cilantro, apples, carrots, ginger, radishes… and on and on and on. Have some fun with it!
Keep your household clean, too!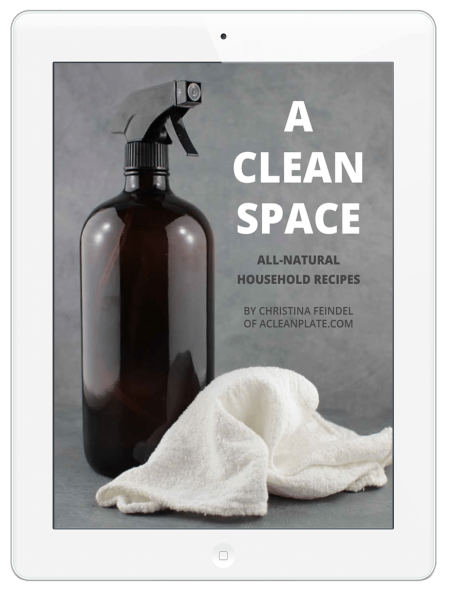 I may make my living as a food blogger, but my health-consciousness actually began long before I started cooking. Growing up with a sensitive nose and skin that would break out into a rash at the slightest provocation, I've been making my own cosmetics and cleaning products since high school. I hoped that avoiding these environmental toxins would not only improve my health, but be better for the environment and save me some money compared to buying high-end non-toxic products at a health-foods store. Whatever your reasons, making your own household products is easier than you might think. My e-book A Clean Space has all the tips, tricks, and recipes you need to get started–and it's only $6.99!
Ingredients
1

pound

cabbage

(sliced)

1

pound

red cabbage

(sliced)

1

pound

carrot

(shredded)

3

tablespoons

sea salt

6

cloves

garlic

(minced)
Nutrition Facts
Calories:
71
kcal
Carbohydrates:
17
g
Protein:
3
g
Fat:
0.5
g
Saturated Fat:
0.1
g
Polyunsaturated Fat:
0.2
g
Monounsaturated Fat:
0.05
g
Sodium:
2930
mg
Potassium:
563
mg
Fiber:
5
g
Sugar:
8
g
Vitamin A:
6400
IU
Vitamin C:
118
mg
Calcium:
90
mg
Iron:
1.6
mg
Instructions
Remove and discard the outer leaves of the cabbage. Combine the cabbage, carrots, and salt in a large mixing bowl and massage until the cabbage sheds water, about 20 minutes.

Add the garlic and continue massaging until mixed thoroughly and completely saturated. Transfer to a large mason jar or ceramic pot, packing firmly so that the water level rises above the vegetables and fills the jar to the shoulder.

Use a shot glass or small serving bowl to hold the veggies under the liquid, then cover with cheesecloth so that the mixture can breathe without any bugs getting in–or use a fermenting cap if you have one.

Store in a cool, dark place for 2-3 weeks, checking occasionally and removing any veggies that have risen to the surface of the water. The longer you let it ferment, the more sour it will get. After you're done fermenting it, place a plastic lid on the jar and store in the refrigerator.