Sauerkraut is one of the easiest fermented foods to make. You seriously mix it all together (okay, so that takes a little bit of elbow grease) and then forget about it for two weeks. Easy, right? You can also add a whole host of things to change up the flavor, like chopped cilantro, apples, carrots, ginger, radishes… and on and on and on. Have some fun with it!
Budget-Friendly AIP Cookbook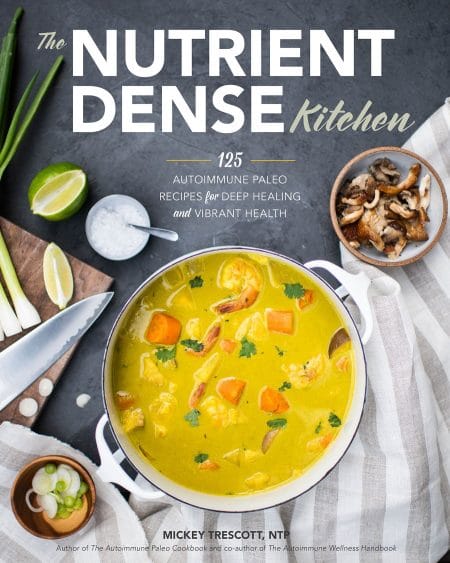 The Nutrient Dense Kitchen is a beautiful, simple cookbook all about helping you understand which ingredients will give you the most nutritional bang for your buck, and showing you how to incorporate them into your diet in efficient, budget-friendly, and delicious ways. With 125 AIP recipes and 5 meal plans, it's a cookbook you're guaranteed to cherish. Now available on Amazon.
Ingredients
1

pound

cabbage

(sliced)

1

pound

red cabbage

(sliced)

1

pound

carrot

(shredded)

3

tablespoons

sea salt

6

cloves

garlic

(minced)
Nutrition Facts
Calories:
71
kcal
Carbohydrates:
17
g
Protein:
3
g
Fat:
0.5
g
Saturated Fat:
0.1
g
Polyunsaturated Fat:
0.2
g
Monounsaturated Fat:
0.05
g
Sodium:
2930
mg
Potassium:
563
mg
Fiber:
5
g
Sugar:
8
g
Vitamin A:
128
%
Vitamin C:
143
%
Calcium:
9
%
Iron:
9
%
Instructions
Remove and discard the outer leaves of the cabbage. Combine the cabbage, carrots, and salt in a large mixing bowl and massage until the cabbage sheds water, about 20 minutes.

Add the garlic and continue massaging until mixed thoroughly and completely saturated. Transfer to a large mason jar or ceramic pot, packing firmly so that the water level rises above the vegetables and fills the jar to the shoulder.

Use a shot glass or small serving bowl to hold the veggies under the liquid, then cover with cheesecloth so that the mixture can breathe without any bugs getting in–or use a fermenting cap if you have one.

Store in a cool, dark place for 2-3 weeks, checking occasionally and removing any veggies that have risen to the surface of the water. The longer you let it ferment, the more sour it will get. After you're done fermenting it, place a plastic lid on the jar and store in the refrigerator.