Sauerkraut is one of the easiest fermented foods to make. You seriously mix it all together (okay, so that takes a little bit of elbow grease) and then forget about it for two weeks. Easy, right? You can also add a whole host of things to change up the flavor, like chopped cilantro, apples, carrots, ginger, radishes… and on and on and on. Have some fun with it!
Looking for Some Simple AIP Recipes?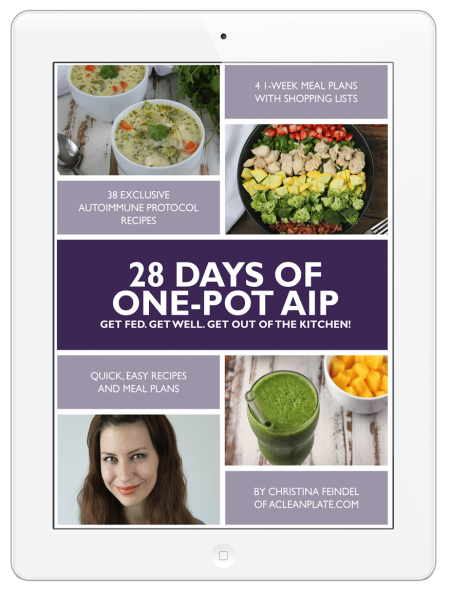 When you're dealing with fatigue, pain, or illness, eating healthy is hard enough without having to multitask while cooking or clean up a huge mess afterwards. That's why one-pot meals are my favorite. 28 Days of One-Pot AIP is exactly what it sounds like: A 28-day meal plan featuring only 100% autoimmune protocol, one-pot recipes. There's an intro to explain the AIP and one-pot cooking and the preparation is so much simpler when you've only got one thing to keep track of. Plus, you'll be amazed at the variety of flavors still available to you, like my Chicken Pot Pie Soup, satisfying green smoothies, and colorful salads! The e-book is now available for $9.99.
Ingredients
1

pound

cabbage

(sliced)

1

pound

red cabbage

(sliced)

1

pound

carrot

(shredded)

3

tablespoons

sea salt

6

cloves

garlic

(minced)
Nutrition Facts
Calories:
71
kcal
Carbohydrates:
17
g
Protein:
3
g
Fat:
0.5
g
Saturated Fat:
0.1
g
Polyunsaturated Fat:
0.2
g
Monounsaturated Fat:
0.05
g
Sodium:
2930
mg
Potassium:
563
mg
Fiber:
5
g
Sugar:
8
g
Vitamin A:
6400
IU
Vitamin C:
118
mg
Calcium:
90
mg
Iron:
1.6
mg
Instructions
Remove and discard the outer leaves of the cabbage. Combine the cabbage, carrots, and salt in a large mixing bowl and massage until the cabbage sheds water, about 20 minutes.

Add the garlic and continue massaging until mixed thoroughly and completely saturated. Transfer to a large mason jar or ceramic pot, packing firmly so that the water level rises above the vegetables and fills the jar to the shoulder.

Use a shot glass or small serving bowl to hold the veggies under the liquid, then cover with cheesecloth so that the mixture can breathe without any bugs getting in–or use a fermenting cap if you have one.

Store in a cool, dark place for 2-3 weeks, checking occasionally and removing any veggies that have risen to the surface of the water. The longer you let it ferment, the more sour it will get. After you're done fermenting it, place a plastic lid on the jar and store in the refrigerator.