I recently went on something of an Asian-food kick. When you embrace summer squash as a noodle substitute, it's incredible how many dishes open back up to you. Udon. Ramen. Pad Thai. When the craving hits, I might ordinarily be tempted to cheat with some rice noodles–I tolerate rice okay, most of the time–but a spiralizer makes adding these way-healthier veggies to the meal both easy and fun. This Salmon and Slaw Zoodle Bowl makes for an incredibly satisfying meal that takes hardly any effort to throw together. You can use zucchini or yellow squash or, if you don't mind sauteing your noodles a bit first, sweet potato or butternut. And if, like me, you think cilantro takes like soap, feel free to leave that off. The sauce packs tons of flavor and makes a great marinade for Asian-influenced recipes of all kinds. Enjoy!
Keep Your Health on Track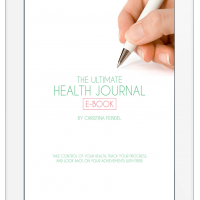 Whether you're starting the autoimmune protocol, a new medication, an exercise routine or trying to get to the bottom of your headaches or indigestion, cataloging your activities and symptoms is a great way to gauge your progress.
The Ultimate Health Journal
can help you stay on track with diet, fitness, and other lifestyle changes you have begun or been prescribed, notice patterns in your health and lifestyle so you can enact positive changes, and provide a valuable tool for you, your family, and your healthcare team. I would never have noticed that cinnamon makes me sneeze or dairy gives me hiccups without keeping a written record during my elimination diet, which helped me see the patterns that solved my problems! The ebook is available as a digital download with printable template for 
$6.99
.
Instructions
Combine the olive oil, vinegar, aminos, honey, optional sesame oil, garlic, ginger, and salt in a blender and puree until well mixed.

Marinate the salmon with half of the sauce in an airtight container for at least 30 minutes in the fridge.

Preheat the oven to 425 degrees F.

Place the salmon on a parchment-lined baking sheet and bake 9-16 minutes or until the fish flakes easily when scratched with a fork and the thickest parts are no longer raw in the middle.

Meanwhile, combine the zucchini, cabbage, green onions, and cilantro with the remaining sauce.

To serve, divide the zoodle slaw (including the sauce on it) between 4 serving bowls and top each with a salmon filet.