This Russian Honey Tea, called Sbiten (сбитень), is a simple, warming winter beverage that can be made with water or wine, featuring honey, fall spices, and… jam! I stumbled onto the idea when I had an abundance of jam to get rid of and could only eat so many fruit-glazed meats. Sbiten dates back to the 12th century and could be found on street corners until tea and coffee took over during the industrial revolution. It should be served more like mead, in a proper copper stein, but I don't happen to have any of those, so mine's pictured as tea. Despite that break with tradition, it's kind of nice to get to combine my love of history with my day job! I don't spend nearly enough time with Eastern European cuisine and know that even the coolest tea is kind of a lame first step in that direction. That said, it is a really cool tea. I haven't seen any recipes using anything other than blackberry jam and mint, but I'm sure it'd be just as delicious with other fruits and whatever herbs might best compliment them…
Are you suffering from adrenal fatigue?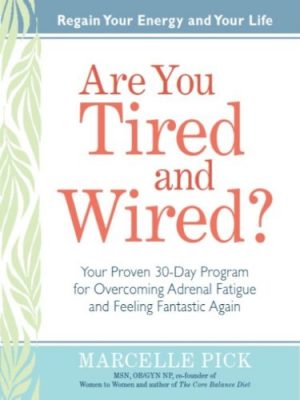 Are You Tired and Wired? is one of my favorite books on adrenal fatigue with chronic illness. It's a comprehensive yet straightforward examination of the factors at work and home that contribute to chronic adrenal dysfunction and the diet, lifestyle adjustments, and emotional reprogramming that can help fix it. A healthcare provider with a focus on women's health, Marcelle Pick will help you identify what type of adrenal dysfunction you suffer from and provide an easy-to-follow, science-based program to help you restore balance to your life. I found it extremely helpful with my own chronic fatigue!
Nutrition Facts
Calories:
37
kcal
Carbohydrates:
10
g
Protein:
0.3
g
Fat:
0.2
g
Saturated Fat:
0.1
g
Polyunsaturated Fat:
0.1
g
Monounsaturated Fat:
0.02
g
Sodium:
7
mg
Potassium:
43
mg
Fiber:
1
g
Sugar:
8
g
Vitamin A:
250
IU
Vitamin C:
3.3
mg
Calcium:
20
mg
Iron:
0.4
mg
Instructions
In a saucepan over medium heat, combine all ingredients and bring to a boil, stirring frequently.

When heated through and the jam and honey have dissolved, strain into mugs for serving.