I particularly love the beets. Who knew they'd make such good fries?
Keep Your Health on Track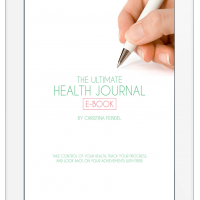 Whether you're starting the autoimmune protocol, a new medication, an exercise routine or trying to get to the bottom of your headaches or indigestion, cataloging your activities and symptoms is a great way to gauge your progress. The Ultimate Health Journal can help you stay on track with diet, fitness, and other lifestyle changes you have begun or been prescribed, notice patterns in your health and lifestyle so you can enact positive changes, and provide a valuable tool for you, your family, and your healthcare team. I would never have noticed that cinnamon makes me sneeze or dairy gives me hiccups without keeping a written record during my elimination diet, which helped me see the patterns that solved my problems! The ebook is available as a digital download with printable template for $6.99.
Nutrition Facts
Calories:
132
kcal
Carbohydrates:
14
g
Protein:
2
g
Fat:
8
g
Saturated Fat:
7
g
Polyunsaturated Fat:
0.4
g
Monounsaturated Fat:
1
g
Sodium:
539
mg
Potassium:
381
mg
Fiber:
4
g
Sugar:
4
g
Vitamin A:
10150
IU
Vitamin C:
11.6
mg
Calcium:
60
mg
Iron:
3.4
mg
Instructions
Preheat the oven to 400F. After washing the vegetables, cut them into fry shapes (a mandolin slicer is useful here).

Combine all ingredients and mix well. Lay the fries on a parchment-lined baking sheet in a single layer.

Bake 30-45 minutes or until the fries are crispy, stirring once halfway through. Be careful they don't burn and remove them from the oven at the first sign of browning around the edges. Serve hot.