Back when I started making bone broth and thus needed to procure bones, this was the way I did it. Flashbacks to RenFest, anyone? Just don't eat these in the middle of the day, unless you're prepared for a three-hour turkey coma. I'm seriously considering using these as a sleep aid. All that aside, these make the perfect Thanksgiving entree for a small, no-muss-no-fuss evening with just a few people. Served with cranberry sauce on top and sides of sweet potatoes, asparagus, and a Waldorf-style green salad, you've got a simple and plenty-satisfying autoimmune protocol dinner.
Looking for Some Simple AIP Recipes?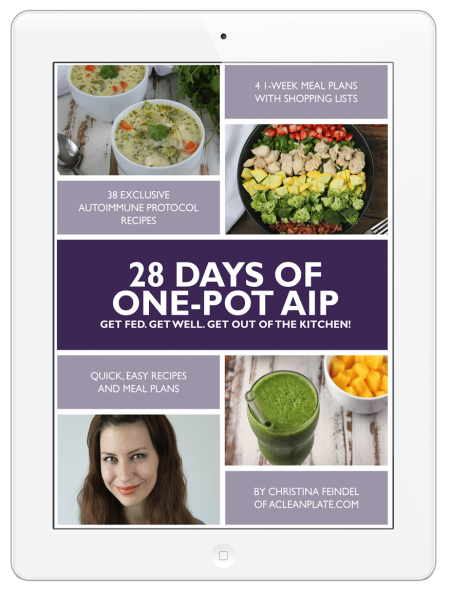 When you're dealing with fatigue, pain, or illness, eating healthy is hard enough without having to multitask while cooking or clean up a huge mess afterwards. That's why one-pot meals are my favorite. 28 Days of One-Pot AIP is exactly what it sounds like: A 28-day meal plan featuring only 100% autoimmune protocol, one-pot recipes. There's an intro to explain the AIP and one-pot cooking and the preparation is so much simpler when you've only got one thing to keep track of. Plus, you'll be amazed at the variety of flavors still available to you, like my Chicken Pot Pie Soup, satisfying green smoothies, and colorful salads! The e-book is now available for $9.99.
Total Time:
8
hours
45
minutes
Nutrition Facts
Calories:
1213
kcal
Carbohydrates:
8
g
Protein:
160
g
Fat:
56
g
Saturated Fat:
17
g
Polyunsaturated Fat:
15
g
Monounsaturated Fat:
17
g
Cholesterol:
579
mg
Sodium:
6341
mg
Potassium:
2409
mg
Fiber:
2
g
Sugar:
1
g
Vitamin A:
50
IU
Vitamin C:
1.7
mg
Calcium:
150
mg
Iron:
16.2
mg
Instructions
In a stockpot, combine the water, salt, vinegar, garlic, and bay leaf. Boil. Allow to cool, then chill completely in the fridge or freezer.

When cold, add the turkey, cover, and chill overnight.

Preheat the oven to 400F and combine the remaining ingredients.

Rinse the turkey legs and pat them dry, then cover in the seasoning mix.

Lay on a baking sheet and roast 20 minutes. Reduce the heat to 300F and roast another 15-30 minutes, or until the turkey is cooked through. Cooking time will vary depending on how large your turkey legs are.

To serve, wrap the bone-out side in aluminum foil, and prepare for a big, delicious mess.