For as long as I can remember, strawberries have been my go-to indulgence. I mean, it wasn't always the fruit itself. As a kid, there were strawberry-flavored popsicles, slushies, lollipops, sodas, cream cheeses, sundaes, you name it. Later on in life, there was even strawberry-flavored beer. And when I did eat the fruit itself, it was usually sprinkled with a heaping helping of sugar. What was that all about?! Now, I can't imagine ruining perfectly good, fresh strawberries by eating them any way but, well, fresh! They're sweeter than other berries at peak ripeness but still have that delightfully sour undertone that makes them such a wonderful complement to basil and vanilla alike. In this Roasted Strawberry Pots de Creme recipe, they're paired with both for maximum flavor effectiveness. Prepare to have your tastebuds blown away!
Budget-Friendly AIP Cookbook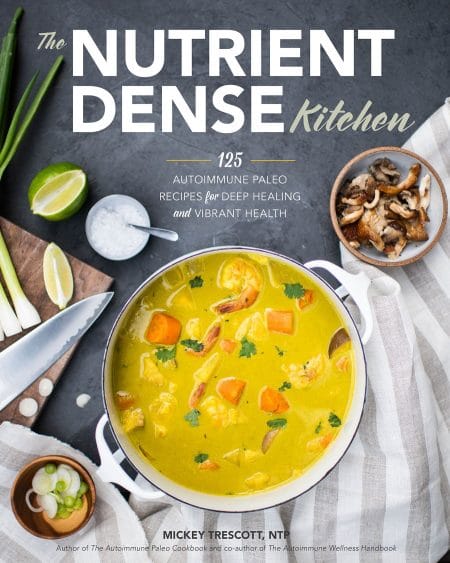 The Nutrient Dense Kitchen is a beautiful, simple cookbook all about helping you understand which ingredients will give you the most nutritional bang for your buck, and showing you how to incorporate them into your diet in efficient, budget-friendly, and delicious ways. With 125 AIP recipes and 5 meal plans, it's a cookbook you're guaranteed to cherish. Now available on Amazon.
Cook Time:
1
hour
10
minutes
Total Time:
1
hour
20
minutes
Nutrition Facts
Calories:
343
kcal
Carbohydrates:
32
g
Protein:
9
g
Fat:
21
g
Saturated Fat:
18
g
Polyunsaturated Fat:
0.2
g
Monounsaturated Fat:
0.1
g
Sodium:
67
mg
Potassium:
221
mg
Fiber:
3
g
Sugar:
25
g
Vitamin A:
8
%
Vitamin C:
114
%
Calcium:
3
%
Iron:
7
%
Instructions
Preheat the oven to 325 degrees F. Blend together 1 1/2 cups of the coconut milk, honey vanilla, cinnamon, and salt.

Heat the remaining coconut milk in a small saucepan over medium until just beginning to steam. Stir in the gelatin until dissolved, then pour into the blender and process on low speed for 30 seconds.

Divide between four six-ounce ramekins. Place them in a large baking pan and add 1" of water to the bottom, then bake until set, about 60 minutes.

Meanwhile, combine the strawberries, 2 tablespoons honey, and basil in a baking dish of their own and add to the oven during the last 15 minutes of baking.

Allow both to cool to room temperature, then puree the berry mixture and top the pots de creme with it. Chill before serving.