Every summer, it's so hot and miserable I find myself eagerly awaiting winter, a time of year when my clothes won't stick to my skin and my hair won't be a frizzy mess, my makeup melting off my face every time I leave the house. And of course, as soon as winter comes around, I instantly regret ever looking forward to it. It's so gloomy, my ears and nose hurt, I get the sniffles even if I don't get sick, all I want to do is curl up in bed with my warmest, fuzziest pajamas and as many blankets as I can find…. Soup is the only redeeming thing about this awful cold. It's hearty. It's healthy. It's hot and comforting and always relatively simple to make. This Roasted Chicken and Vegetable Soup is unique in that the ingredients are all cooked in the oven before they even make it to the pot of broth. It gives the veggies an irresistibly rich flavor, catapulting this soup into one of my all-time favorites.
Make your own non-toxic cosmetics!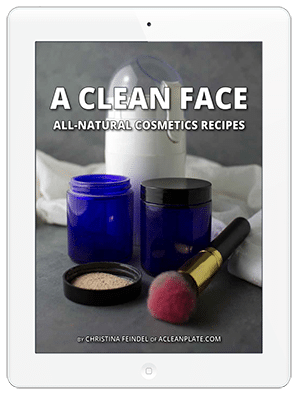 I may make my living as a food blogger, but journey toward a more health-conscious lifestyle actually began with making my own cosmetics while I was still in high school–many years before I started "clean eating". Desperate to get a handle on my sensitive skin and nose, I was also hoping for cheaper, more eco-friendly alternatives to store-bought products. If you're in the same boat, making your own cosmetics and toiletries is easier than you might think! My e-book A Clean Face will give you the tools you need to get started for just $9.99.
Nutrition Facts
Calories:
424
kcal
Carbohydrates:
27
g
Protein:
41
g
Fat:
18
g
Saturated Fat:
10
g
Polyunsaturated Fat:
3
g
Monounsaturated Fat:
4
g
Cholesterol:
96
mg
Sodium:
2506
mg
Potassium:
1600
mg
Fiber:
8
g
Sugar:
6
g
Vitamin A:
29550
IU
Vitamin C:
78.4
mg
Calcium:
250
mg
Iron:
9
mg
Instructions
Preheat the oven to 425 degrees F.

On a large, rimmed baking sheet, place the chicken on one side and then combine the carrots, sweet potato, squash, onion, garlic, coconut oil, and a hefty helping of sea salt on the other.

Bake for 20 minutes or until the chicken is cooked through and the vegetables are fork-tender.

Transfer the onions and garlic cloves to a blender and puree until smooth, then combine all ingredients in a large stockpot and simmer 5-10 minutes, until the spinach is wilted and the soup is heated through.