Garlic Roasted Broccoli and Cauliflower. Do those words make you turn up your nose a little? We all know that broccoli and cauliflower are some of the world's least favorite vegetables. But as members of the crucifer family, they're also some of the healthiest. It's actually a good rule of thumb that the more bitter and offensive a vegetable is, the better it is for you and the more often you should eat it. So it's been one of my primary missions, as a health-conscious chef and eater, to try to find ways to make these vegetables more palatable for myself and my fairly picky husband. Well, this Garlic Roasted Broccoli and Cauliflower has become a staple for my meal prep, making an appearance in our menu at least once a month. It's easy to throw together, has a flavor profile that works will with any protein, and only has a handful of ingredients. (It's also true that when dealing with these strong, bitter flavors, it's better to keep it simple.) Give it a try and see if your family becomes any fonder of these healthy veggies!
Looking for Low-FODMAP Recipes?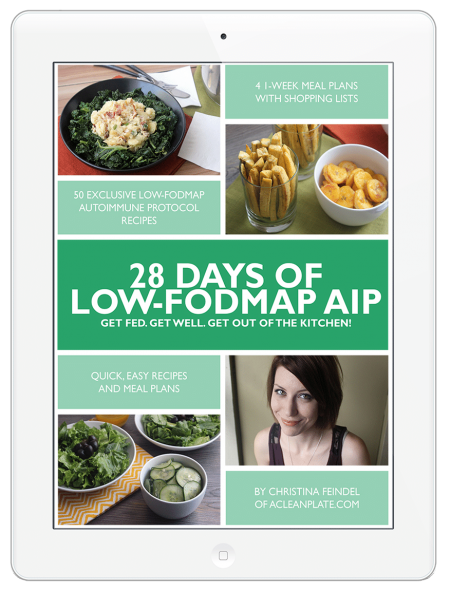 The low-FODMAP diet is often prescribed for people with IBS or Small Intestinal Bacterial Overgrowth (SIBO), and there's a huge overlap of that demographic with people with autoimmune disease. My e-book 28 Days of Low-FODMAP AIP combines both IBS- and autoimmune-friendly diets in a 28-day meal plan designed to jump start and simplify this often-challenging diet change. Just you wait: The meal plan includes 50 exclusive low-FODMAP recipes you won't find on my website or anywhere else, with dishes like Chicken Vindalo, Jambalaya, and crispy, crunchy Tostones. You'll be amazed at the variety of flavors still available to you! The ebook is available as a digital download for $9.99.
Nutrition Facts
Calories:
173
kcal
Carbohydrates:
14
g
Protein:
6
g
Fat:
12
g
Saturated Fat:
10
g
Polyunsaturated Fat:
1
g
Monounsaturated Fat:
1
g
Sodium:
311
mg
Potassium:
714
mg
Fiber:
6
g
Sugar:
5
g
Vitamin A:
15
%
Vitamin C:
263
%
Calcium:
8
%
Iron:
7
%
Instructions
Preheat the oven to 375F. Combine all ingredients in a large bowl, then transfer to a baking sheet and spread into a single layer.

Bake 20-30 minutes, stirring once halfway through, until the broccoli and cauliflower are slightly brown on top.