Creamy and tart, this pasta is good piping hot or chilled. In the photo, I used spiralized summer squash for the noodles, but with a pesto like this, I prefer thinner, "angel hair"-style noodles like spaghetti squash. However, you can also use spiralized zucchini, beets, carrots, sweet potato, or just about any other firm, tuber-like vegetable you might like.
Are you suffering from adrenal fatigue?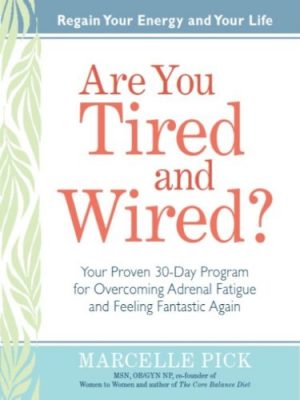 Are You Tired and Wired? is one of my favorite books on adrenal fatigue with chronic illness. It's a comprehensive yet straightforward examination of the factors at work and home that contribute to chronic adrenal dysfunction and the diet, lifestyle adjustments, and emotional reprogramming that can help fix it. A healthcare provider with a focus on women's health, Marcelle Pick will help you identify what type of adrenal dysfunction you suffer from and provide an easy-to-follow, science-based program to help you restore balance to your life. I found it extremely helpful with my own chronic fatigue!
Avocado Pesto Pasta
PREP TIME:

5

minutes

COOK TIME:

15

minutes

YIELDS:

4

servings

RATING:
This information is an estimate provided by an online nutrition calculator. It is not a substitute for professional advice.
CALORIES:
630kcal
PROTEIN:
5g
TOTAL FAT:
58g
MUFA:
39g
PUFA:
8g
SATURATED:
9g
CHOLESTEROL:
TOTAL CARBS:
31g
FIBER:
14g
SUGARS:
7g
VITAMIN C:
49%
POTASSIUM:
1081mg
SODIUM:
1013mg
CALCIUM:
10%
IRON:
13%
Ingredients

This information is an estimate provided by an online nutrition calculator. It is not a substitute for professional advice.

CALORIES:

630kcal

PROTEIN:

5g

TOTAL FAT:

58g

MUFA:

39g

PUFA:

8g

SATURATED:

9g

CHOLESTEROL:

TOTAL CARBS:

31g

FIBER:

14g

SUGARS:

7g

VITAMIN C:

49%

POTASSIUM:

1081mg

SODIUM:

1013mg

CALCIUM:

10%

IRON:

13%