I'm kind of on a roll featuring recipes with ingredients I never really liked. Shrimp, zucchini… now cauliflower. I mean, who knew you could do things with it that wouldn't leave it tasting bland, mushy, and/or bitter? It is the perfect base for all kinds of creamy dishes… and this "alfredo" sauce is so very similar in taste to the canned stuff my mom used to serve.
Struggling with thyroid disease?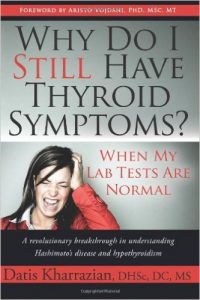 Why Do I Still Have Thyroid Symptoms? by functional medicine practitioner Datis Kharrazian is single-handedly responsible for my improved health over the past few years. It introduced me to the connection between autoimmune disease and lifestyle factors like diet at a time when my doctors were telling me there was nothing wrong with my thyroid even though I had high antibodies. This book gave me the information I needed to get the right tests ordered and seek proper treatment. It's a must-have guide for anyone who has already been diagnosed with thyroid disease, who is at risk due to family history, or who strongly suspects they may have it but isn't sure where to start. I can't recommend it enough!
Total Time:
1
hour
10
minutes
Nutrition Facts
Calories:
529
kcal
Carbohydrates:
27
g
Protein:
45
g
Fat:
28
g
Saturated Fat:
12
g
Polyunsaturated Fat:
5
g
Monounsaturated Fat:
9
g
Cholesterol:
113
mg
Sodium:
1798
mg
Potassium:
1188
mg
Fiber:
8
g
Sugar:
10
g
Vitamin A:
2000
IU
Vitamin C:
132.8
mg
Calcium:
100
mg
Iron:
4.3
mg
Instructions
Preheat the oven to 400 degrees F. Place the squash cut-side down on a foil-lined baking sheet and bake for 1 hour or until the flesh can easily be shredded with a fork.

Meanwhile, heat the oil in a large pot over medium heat and cook the chicken through, stirring occasionally, about 10 minutes.

Combine the cauliflower and broth in the pot over medium-high heat and bring to a boil.Cover and cook until the cauliflower is tender, about 10 minutes.

Combine all ingredients except the squash and chicken in a blender and process until smooth.

Layer the squash and chicken on plates, cover with sauce, and garnish with bacon and parsley to serve.