This recipe also works for any kind of squash or sweet potato puree. For sweet potatoes, just wash 'em, stick 'em on a pan in the oven, and wait 'til they're tender. My other favorite purees, plantain and date paste, pretty much just go into a blender without any cooking. Anyway, this is a pretty easy, fool-proof way to get high-quality veggie purees for soups, pies, pancakes, etc… no more worries about canned stuff!
Make your own non-toxic cosmetics!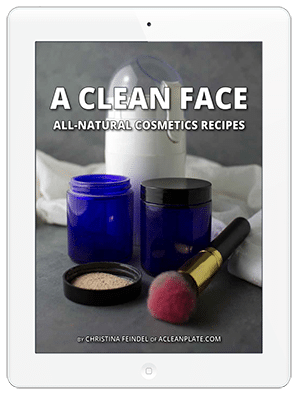 I may make my living as a food blogger, but journey toward a more health-conscious lifestyle actually began with making my own cosmetics while I was still in high school–many years before I started "clean eating". Desperate to get a handle on my sensitive skin and nose, I was also hoping for cheaper, more eco-friendly alternatives to store-bought products. If you're in the same boat, making your own cosmetics and toiletries is easier than you might think! My e-book A Clean Face will give you the tools you need to get started for just $9.99.
Nutrition Facts
Calories:
90
kcal
Carbohydrates:
10
g
Protein:
1
g
Fat:
6
g
Saturated Fat:
4
g
Polyunsaturated Fat:
1
g
Monounsaturated Fat:
1
g
Sodium:
208
mg
Potassium:
253
mg
Fiber:
4
g
Sugar:
4
g
Vitamin A:
19100
IU
Vitamin C:
7.4
mg
Calcium:
30
mg
Iron:
1.8
mg
Instructions
Preheat the oven to 350F.

Cut the pumpkin (or squash) in half and remove the seeds and strings.

Oil a rimmed baking sheet as well as the skin of the pumpkin with your chosen cooking fat. Place the pumpkin cut-side down on the sheet and add a little water to the pan, 1" or less. If using squash, do not add water.

Bake 30-45 minutes or until the pumpkin is easily pierced and the skin slides right off.

When cool, remove the skin, and puree the flesh in a blender. Use or freeze the puree.