This AIP-friendly ice cream is creamy, sweet, and contains no added sugar. It's got only three ingredients, one of which is entirely optional.
Looking for Low-FODMAP Recipes?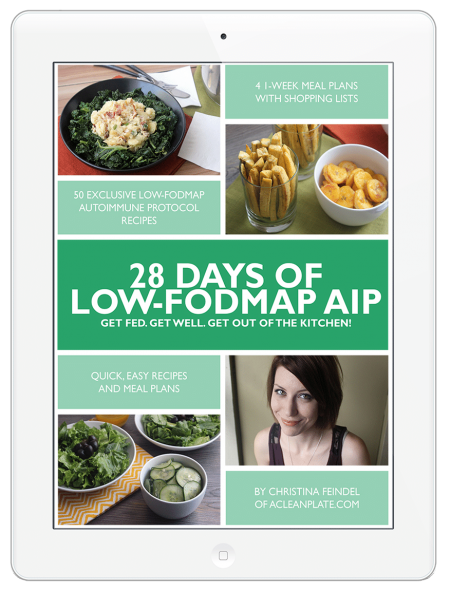 The low-FODMAP diet is often prescribed for people with IBS or Small Intestinal Bacterial Overgrowth (SIBO), and there's a huge overlap of that demographic with people with autoimmune disease. My e-book 28 Days of Low-FODMAP AIP combines both IBS- and autoimmune-friendly diets in a 28-day meal plan designed to jump start and simplify this often-challenging diet change. Just you wait: The meal plan includes 50 exclusive low-FODMAP recipes you won't find on my website or anywhere else, with dishes like Chicken Vindalo, Jambalaya, and crispy, crunchy Tostones. You'll be amazed at the variety of flavors still available to you! The ebook is available as a digital download for $9.99.
Nutrition Facts
Calories:
154
kcal
Carbohydrates:
31
g
Protein:
2
g
Fat:
4
g
Saturated Fat:
4
g
Polyunsaturated Fat:
0.1
g
Monounsaturated Fat:
0.03
g
Sodium:
4
mg
Potassium:
447
mg
Fiber:
3
g
Sugar:
14
g
Vitamin A:
1000
IU
Vitamin C:
23.1
mg
Iron:
0.7
mg
Instructions
Combine all ingredients in a blender or food processor and process until smooth. You may have to stop and stir the plantains a bit if you are using a blender.

Process through your ice cream maker according to the manufacturer's instructions. Alternatively, freeze until half-frozen (about 30 minutes), then puree in a blender until smooth and freeze again until the consistency of ice cream.