With hearty vegetables and savory Italian seasonings instead of dough and dairy, this Pizza Soup feels quite a bit healthier than its namesake. Still, the pepperoni and sausage make this soup is as indulgent as it is delicious. If you've ever wanted to drink a pizza, now's your chance! It's one of my favorite comfort foods, especially in cooler weather when a salad just doesn't have the same appeal. Plus, while it's cooking, it makes the kitchen smell great. You'll be salivating well before its 45-minute cook time is up, but don't be off-put by the commitment: It takes only a few minutes to throw together and the rest is hands-off. That's the best kind of recipe, in my opinion!
Need Help Meal Planning?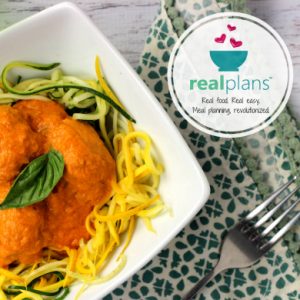 Feeling uninspired or struggling to stick to your Paleo or autoimmune protocol diet? It helps to have a plan. Real Plans will create a custom plan for your family's size, schedule, and needs and it's just $6/month if you sign up for an annual subscription. This is a great next step for those of you that have finished 28 Days of AIP and are looking to keep the ball rolling with new, exciting recipes!
Nutrition Facts
Calories:
655
kcal
Carbohydrates:
24
g
Protein:
32
g
Fat:
48
g
Saturated Fat:
19
g
Polyunsaturated Fat:
5
g
Monounsaturated Fat:
20
g
Cholesterol:
98
mg
Sodium:
2435
mg
Potassium:
1296
mg
Fiber:
5
g
Sugar:
10
g
Vitamin A:
1650
IU
Vitamin C:
45.4
mg
Calcium:
110
mg
Iron:
4.5
mg
Instructions
Heat the oil in a large pot over medium-high heat and cook the onion, garlic, and thyme until the onion is translucent.

Add the zucchini and no-tomato sauce and bring to a boil, then simmer for 20 minutes.

Transfer to a blender and puree until smooth, then return to the stove.

Add the broth, sausage and mushrooms and simmer for 10-15 minutes, or until the sausage is cooked through and the mushrooms are tender.

Garnish with pepperoni and olives and season to taste before serving.