With hearty vegetables and savory Italian seasonings instead of dough and dairy, this Pizza Soup feels quite a bit healthier than its namesake. Still, the pepperoni and sausage make this soup is as indulgent as it is delicious. If you've ever wanted to drink a pizza, now's your chance! It's one of my favorite comfort foods, especially in cooler weather when a salad just doesn't have the same appeal. Plus, while it's cooking, it makes the kitchen smell great. You'll be salivating well before its 45-minute cook time is up, but don't be off-put by the commitment: It takes only a few minutes to throw together and the rest is hands-off. That's the best kind of recipe, in my opinion!
Struggling with thyroid disease?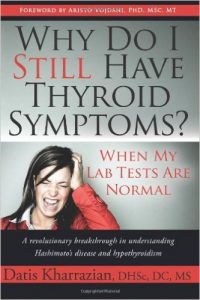 Why Do I Still Have Thyroid Symptoms? by functional medicine practitioner Datis Kharrazian is single-handedly responsible for my improved health over the past few years. It introduced me to the connection between autoimmune disease and lifestyle factors like diet at a time when my doctors were telling me there was nothing wrong with my thyroid even though I had high antibodies. This book gave me the information I needed to get the right tests ordered and seek proper treatment. It's a must-have guide for anyone who has already been diagnosed with thyroid disease, who is at risk due to family history, or who strongly suspects they may have it but isn't sure where to start. I can't recommend it enough!
Nutrition Facts
Calories:
655
kcal
Carbohydrates:
24
g
Protein:
32
g
Fat:
48
g
Saturated Fat:
19
g
Polyunsaturated Fat:
5
g
Monounsaturated Fat:
20
g
Cholesterol:
98
mg
Sodium:
2435
mg
Potassium:
1296
mg
Fiber:
5
g
Sugar:
10
g
Vitamin A:
1650
IU
Vitamin C:
45.4
mg
Calcium:
110
mg
Iron:
4.5
mg
Instructions
Heat the oil in a large pot over medium-high heat and cook the onion, garlic, and thyme until the onion is translucent.

Add the zucchini and no-tomato sauce and bring to a boil, then simmer for 20 minutes.

Transfer to a blender and puree until smooth, then return to the stove.

Add the broth, sausage and mushrooms and simmer for 10-15 minutes, or until the sausage is cooked through and the mushrooms are tender.

Garnish with pepperoni and olives and season to taste before serving.