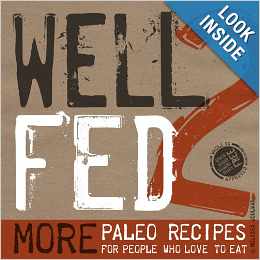 Well Fed 2 is the second cookbook to come out of the kitchen of rockstar Paleo blogger Melissa "Melicious" Joulwan.  Those of you already familiar with her blog and her first book, Well Fed, will get more of the same dry wit, tough love, and spunky attitude that has become Melissa's trademark. Well Fed 2 is a comprehensive beginner's cookbook with nuggets of wisdom (and sides of humor?) to offer something to cooks of all experience levels and backgrounds. In addition to its dozens of new recipes, Well Fed 2′s highlights include the story of Melissa's personal Paleo journey, a beautiful graphic of Paleo-approved foods, kitchen tips and terminology, FAQs like what to eat for breakfast, and–best of all, in my opinion–autoimmune protocol-friendly suggestions for each recipe. Melissa's advice about surviving social situations and food cravings will be particularly helpful for readers that are just getting started or struggling to stay on track.
Most of the recipes have beautiful, full-page photographs and plenty of variations and serving suggestions (sometimes dozens) to keep things interesting. Each page also has room for you to make your own notes, which is a nice little feature for obsessive recipe-tweakers like myself. Something too spicy for you the first time you make it? Take a note to reduce the chili powder so you don't forget next time! Because Well Fed 2 is 100% Whole 30-compliant, the cookbook omits all added sugars, including honey and maple syrup, and you won't find any Paleo baking in its pages. Instead, you will find a handful of simple fruit-based dishes for the occasional treat, making this the perfect cookbook for anyone trying to overcome sugar addiction or follow the Whole30 or 21DSD. You'll find an enormous variety of recipes from all over the world, as well as some ingenious and unusual creations like Sunbutter and Jelly… no, not sandwiches… Burgers. For this review, I opted to try the Pizza Veggies, Reuben Rollups, and Deli Tuna Salad.
The Pizza Veggies combine broccoli, cauliflower, olives, and pepperoni with a rich tomato sauce heavily seasoned with Italian herbs. Noah, never a fan of veggies that "look like tiny trees", commented "If you have to eat broccoli, you may as well make it taste like pizza". Hey, he cleaned his plate of the broccoli and the cauliflower, so that's a win in my book! The savory, earthy Italian "pizza sauce" for this recipe is simply divine. I very much look forward to roasting all manner of things (including chicken) in it! And you can never go wrong with crisp, spicy pepperoni. I will use any excuse to eat some and with this recipe, that excuse just happens to be healthy vegetables. It doesn't get any better than that!
The Reuben Roll-ups take the classic sandwich and turn it into a roll-up featuring the meat as the "bread". This is a really clever recipe. The flavor of caraway seeds helps make up for the lack of rye bread, so die-hard Reuben fans won't feel like they're missing out too much. With sauteed onions, warm sauerkraut, a drizzle of Melissa's Russian dressing, and a garnish of green olives (mine were stuffed with garlic), this is a simple, comforting dish that is simple enough to throw together for a mid-week lunch or after-school snack, but is novel and presentable enough to serve to company. Change it up by garnishing with olives stuffed with peppers or cheese (if you eat dairy)!
The Deli Tuna Salad has become one of my weekly staples. Yes, I said weekly. I already have this recipe memorized and I may have given out a few copies of it to friends. With the flavors of red onion, parsley, pickles, and creamy mayonnaise (Melissa includes a so-simple-you'll-wonder-why-you-haven't-been-doing-this-your-whole-life recipe for mayo in the book), this classic tuna dish is an easy, delicious way to incorporate more seafood into your diet. With a quick, rough chop to all the veggies, it takes about ten minutes to prepare and I always double the recipe so we have plenty to go around. Somehow we still wind up eating all of it within a day or two. What can I say, it's just that good! I may never prepare tuna another way again.
I hope you find this Pina Colada Chicken sneak peek just as revolutionary! It's another straightforward recipe featuring a riot of flavors. Try it and let me know what you think!
All in all, Well Fed 2 is a worthy sequel to its predecessor and its strict compliance with Whole30 will make it a boon to anyone following the program. Combined with its AIP-friendly index and its huge variety of recipes, this is a wonderful resource for all sorts of Paleo-based diets. And the beautiful design, simple recipes, and excellent practical advice make it a wonderful addition to any cookbook collection, especially for beginners or anyone in need of a fresh perspective!
Nutrition Facts
Calories:
481
kcal
Carbohydrates:
19
g
Protein:
30
g
Fat:
32
g
Saturated Fat:
17
g
Polyunsaturated Fat:
4
g
Monounsaturated Fat:
7
g
Cholesterol:
104
mg
Sodium:
627
mg
Potassium:
371
mg
Fiber:
2
g
Sugar:
8
g
Vitamin A:
2200
IU
Vitamin C:
152.6
mg
Calcium:
10
mg
Iron:
2.3
mg
Instructions
Cut the chicken into 1-inch cubes. Heat a large, non-stick skillet over medium-high heat, about 3 minutes. Add 1/2 tablespoon coconut oil and allow it to melt. Brown the chicken – cooking in batches, if necessary – until golden all around, about 3-5 minutes per side. Remove the chicken from the pan as it browns and place in a bowl to catch the juices.

To the pan, add 1/2 tablespoon coconut oil. Sauté the onions, peppers, and arrowroot until the vegetables are just-tender, about 5 minutes. Add the pineapple chunks to the pan and stir-fry until they begin to brown, about 3 minutes. Add the garlic and Jerk Seasoning, stirring until fragrant, about 30 seconds. Add the lime juice and stir, scraping up any brown bits stuck to the bottom of the pan. Add the vanilla and coconut milk, stirring to combine. Place the chicken in the sauce and pour in any accumulated juices. Bring to a boil, then simmer, uncovered, until the sauce begins to thicken, about 5 minutes.