Oyakodon is a delicious, savory chicken-and-egg dish served on top of rice–or in this case, cauliflower rice. I have no idea where I first encountered it, but I've been low-key obsessed with Japanese food since my first introduction to sushi at the age of twelve. And this recipe has made for a satisfying, hearty breakfast, brunch, or casual weeknight dinner more times than I can count. It's ready to go in about 20 minutes and it's easy to swap in white rice for the family members that eat it.
Looking for Low-Histamine Recipes?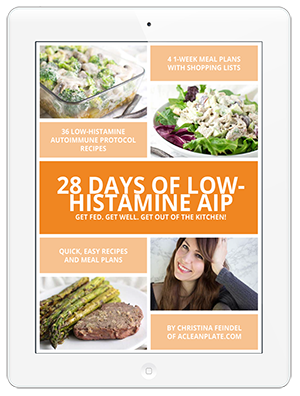 A low-histamine diet can be immensely helpful for MAST cell disorders or people with excess histamine production, but it's an extremely tricky diet to manage. My e-book 28 Days of Low-Histamine AIP combines low-histamine foods with the anti-inflammatory autoimmune protocol diet in a 28-day meal plan designed to jump start and simplify your diet change. The meal plan includes 36 simple, satisfying low-histamine recipes including a variety of dishes like Chicken Schawarma, Cabbage Roll Stir-Fry, and Chimichurri Steaks. You'll be amazed at all the flavors still available to you! The ebook is available as a digital download for $9.99.
Nutrition Facts
Calories:
416
kcal
Carbohydrates:
15
g
Protein:
35
g
Fat:
23
g
Saturated Fat:
6
g
Polyunsaturated Fat:
5
g
Monounsaturated Fat:
9
g
Cholesterol:
290
mg
Sodium:
1033
mg
Potassium:
451
mg
Fiber:
4
g
Sugar:
10
g
Vitamin A:
750
IU
Vitamin C:
40.4
mg
Calcium:
40
mg
Iron:
2.5
mg
Instructions
Combine the broth, aminos, vinegar, fish sauce, and sugar in a large skillet over high heat and bring to a simmer, whisking to dissolve the sugar.

Add the chicken and onion and cook through, about 5 minutes.

Reduce the heat to medium and pour in the eggs. Cover and cook until set, about 5 minutes.

Garnish with scallions and nori flakes, then serve over cauliflower rice.