Oyakodon is a delicious, savory chicken-and-egg dish served on top of rice–or in this case, cauliflower rice. I have no idea where I first encountered it, but I've been low-key obsessed with Japanese food since my first introduction to sushi at the age of twelve. And this recipe has made for a satisfying, hearty breakfast, brunch, or casual weeknight dinner more times than I can count. It's ready to go in about 20 minutes and it's easy to swap in white rice for the family members that eat it.
Need Help Meal Planning?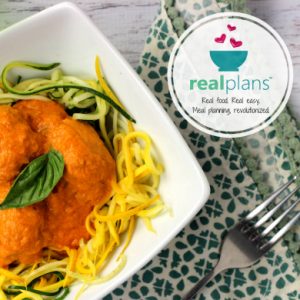 Feeling uninspired or struggling to stick to your Paleo or autoimmune protocol diet? It helps to have a plan. Real Plans will create a custom plan for your family's size, schedule, and needs and it's just $6/month if you sign up for an annual subscription. This is a great next step for those of you that have finished 28 Days of AIP and are looking to keep the ball rolling with new, exciting recipes!
Nutrition Facts
Calories:
416
kcal
Carbohydrates:
15
g
Protein:
35
g
Fat:
23
g
Saturated Fat:
6
g
Polyunsaturated Fat:
5
g
Monounsaturated Fat:
9
g
Cholesterol:
290
mg
Sodium:
1033
mg
Potassium:
451
mg
Fiber:
4
g
Sugar:
10
g
Vitamin A:
15
%
Vitamin C:
49
%
Calcium:
4
%
Iron:
14
%
Instructions
Combine the broth, aminos, vinegar, fish sauce, and sugar in a large skillet over high heat and bring to a simmer, whisking to dissolve the sugar.

Add the chicken and onion and cook through, about 5 minutes.

Reduce the heat to medium and pour in the eggs. Cover and cook until set, about 5 minutes.

Garnish with scallions and nori flakes, then serve over cauliflower rice.