We seem to be stuck in some kind of limbo between summer and fall this past week or so. The mornings are chilly enough that I've been wearing thick socks and craving warm beverages, while the afternoons roll in hot enough I want nothing more than to strip down and lay beneath the ceiling fan even with the AC on, maybe with a bowl or sorbet or ice cream if I'm feeling indulgent. I'm trying to enjoy it while it lasts, though, because this is about as nice as weather gets around here; pretty soon, it will be too cold to enjoy being outdoors (if, I know, not as cold as in other parts of the country). And with the coming winter in mind, I'm stockpiling some warm beverage recipes. Moroccan Mint Tea is a simple combination of sweetened gunpowder green tea and fresh mint. Traditionally, Moroccan Mint Tea is served with a bit of froth, created by pouring the tea into the cups from high above. I couldn't quite pull this off in my English-style teapot (Moroccan ones have a longer, almost swan-like neck that makes high-altitude pouring a bit less messy), but the tea sure is satisfying–minty, smooth, and just a little sweet–with or without the traditional froth. If you can't find gunpowder green tea, any type of green tea will work just fine (although, if you drink a lot of tea, I highly recommend ordering gunpowder green tea online in bulk). If you have loose tea leaves instead of tea bags, you can use a tablespoon of leaves enclosed in a tea ball or other strainer. For a caffeine-free beverage, try my Ginger Tea or use hibiscus tea instead of green tea for a fun, floral twist, and if you prefer to have some kind of creamer in your tea, I recommend a splash of Vanilla Coconut Milk. I used to load my coffee up with it, back when I could still drink coffee!
Struggling with thyroid disease?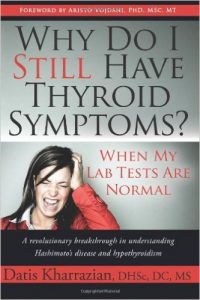 Why Do I Still Have Thyroid Symptoms? by functional medicine practitioner Datis Kharrazian is single-handedly responsible for my improved health over the past few years. It introduced me to the connection between autoimmune disease and lifestyle factors like diet at a time when my doctors were telling me there was nothing wrong with my thyroid even though I had high antibodies. This book gave me the information I needed to get the right tests ordered and seek proper treatment. It's a must-have guide for anyone who has already been diagnosed with thyroid disease, who is at risk due to family history, or who strongly suspects they may have it but isn't sure where to start. I can't recommend it enough!
Nutrition Facts
Calories:
30
kcal
Carbohydrates:
7
g
Protein:
1
g
Fat:
0.3
g
Saturated Fat:
0.1
g
Polyunsaturated Fat:
0.1
g
Monounsaturated Fat:
0.01
g
Sodium:
16
mg
Potassium:
168
mg
Fiber:
3
g
Sugar:
3
g
Vitamin A:
1400
IU
Vitamin C:
14.9
mg
Calcium:
90
mg
Iron:
1.6
mg
Instructions
Place the tea in stovetop teapot and pour one cup of the boiling water over the tea. Steep for 30 seconds, then pour the tea into a cup.

Pour another cup of boiling water over the tea and swish for about 5 seconds, then discard the liquid.

Return the first cup of tea to the teapot and add the mint and remaining water.

Simmer 5 minutes over medium heat.

Stir the tea thoroughly, discard the tea bag and mint leaves, then pour into glasses to serve.