Before I went Paleo, pretty much the only way you could get me to eat broccoli was to drench it in ranch dressing or cheese. But "getting healthy" opened my eyes to a whole new world of vegetable dishes. And I do mean world. What's kept me going on the autoimmune protocol for the past few years has been my passion for adapting ethnic dishes from all over the globe – or better yet, finding ones that don't need to be adapted! – to keep things interesting. This particular broccoli salad, served raw and cold, is an adaptation of a Moroccan recipe using tomatoes, peppers, and cream. My version adds carrots and coconut and gets just a hint of heat from ginger.
Looking for more easy AIP recipes?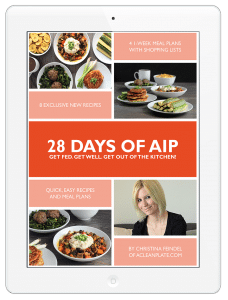 I know diet change can feel overwhelming. I started the autoimmune protocol at a time when only four other people were writing about it, and over the years, I've striven to give you the resources I wish I'd had when I got started. Not just recipes, but ways to implement them. My first ebook 28 Days of AIP is a meal plan that will help you get going (or get back on the wagon) with as little fuss as possible. With a variety of simple, delicious recipes, plenty of leftovers so you don't spend all your free time in the kitchen, and shopping lists ready to go, all you have to do is follow the plan, then sit down and enjoy your meal! It's available as a digital download for $9.99.
Nutrition Facts
Calories:
115
kcal
Carbohydrates:
16
g
Protein:
5
g
Fat:
5
g
Saturated Fat:
4
g
Polyunsaturated Fat:
0.1
g
Monounsaturated Fat:
0.04
g
Sodium:
193
mg
Potassium:
625
mg
Fiber:
5
g
Sugar:
5
g
Vitamin A:
119
%
Vitamin C:
232
%
Calcium:
8
%
Iron:
10
%
Instructions
Combine all ingredients in a large bowl and refrigerate at least 30 minutes to let the flavors meld before serving.